TD Markham Jazz Festival
Canada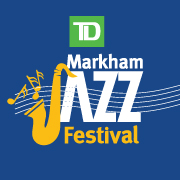 The TD Markham Jazz Festival is a community jazz festival in Markham, Ontario, Canada, that has been producing an innovative program of jazz performances for local residents and visitors for nearly 25 years, with annual International Jazz Day events since 2020. Past performers include a litany of Canadian and international jazz artists, including Dee Dee Bridgewater, Fred Hersch, Sam Rivers, Monty Alexander, Dr. Lonnie Smith and many more. Learn about their plans for International Jazz Day 2022 here.
---
"[Jazz] seems to us a perfect instrument to instill brotherhood between people and help them understand that we are all part of the same community of human beings."
Tell us a little about your organization's mission
To feature emerging and established jazz and jazz-related artists from the Markham (Toronto) area for all to enjoy.
Why does your organization celebrate International Jazz Day?
We are proud to contribute to the further development and advancement of the jazz genre – locally (Markham/Toronto), nationally (Canada) and internationally.

Tell us about a favorite memory from International Jazz Day
The Global Concerts are always memorable.

How do you think jazz can improve people's lives?
Musicians and their music create and share an emotional and meaningful art form. Given the world's troubles today, jazz–and music in general–can play an important part in an individual's overall health and wellbeing.