Meet Our Organizers
Eugene Shapiro, United States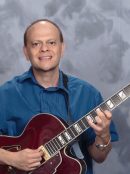 1) What does jazz music mean to you? To your community?

Jazz music is the way of life for me. I dedicated my life to playing, composing, promoting, and teaching Jazz music. I can not imagine my life without Jazz music in it. It is a wonderful, sophisticated, groovy, exciting, danceable, catchy, inspiring, liberating, swinging music! In Las Vegas, where Jazz, especially traditional straight ahead Jazz is not as popular as in other parts of the US, I have tried to promote and educate audiences about it for over 17 years
2) Why are you celebrating International Jazz Day? Why is it important?

I am celebrating International Jazz Day because it is important to acknowledge and promote this Original American Art form that became a Global phenomenon. We also need to educate kids about it, so that the Jazz lives on!
3) What would you like to see happen through this day – short term and long term?
I would like this day every year to be a celebration of Jazz, past, present and future. Long term, I would like it to be extended to a weeklong event.
Watch Shapiro's solo rendition of "My One and Only Love," submitted in honor of the first-ever virtual celebration of International Jazz Day in 2020