Meet Our Organizers
Adele Zamani, Iran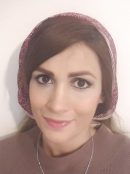 1) What does jazz music mean to you? To your community?

To me jazz music is a different attitude toward life, it has impact on the way of viewing my life. Its rhythmic pattern and its meter is real rhythm of life. Through its improvisation, I learn how tolerant and non-judgmental I should be.
In My community, although Jazz music is not the most popular form of music, jazz lovers in the young generation are increasing. Basically, because improvisation is one of the most important characteristics of Persian traditional music, jazz music make considerable sense for Iranian audiences.
2) Why are you celebrating International Jazz Day? Why is it important?

International Jazz Day has become a social event rather than a music and art event and many important concepts such as freedom, peace, friendship and unlimited number of messages are behind it which has made this a very important day and event for us. We, in Iran, in the Middle East, in the heart of war and violence, would like to convey our peaceful and friendship messages through every possible way, in this regard, we- Iranian young generation -welcome international events which provide us the opportunity to say who we really are and what we really want: peace and security.
Regardless of what place jazz music has in our culture and community, joining to this wonderful peaceful movement and having minor role in this extraordinary event is our main motivation.
3) What would you like to see happen through this day – short term and long term?

It is vital that we could make these events as an occasion of joining to international gathering and movements. Although it is not the first time that this event had been celebrated in Iran, but it is important that we could hold this event bigger and better and spread it all over our country and this region. For this, it is essential that we could be host of jazz star in our country.