Meet Our Organizers
Chris Henderson, France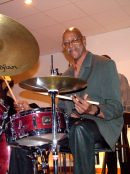 1) What does jazz music mean to you? To your community?

For us we are using jazz to unite people, bringing together people from all kinds of backgrounds , to share our love and joy for this beautiful universal music style.
2) Why are you celebrating International Jazz Day? Why is it important?
Catching new listeners, young and old , remembering and paying tribute to the Jazz Greats some very well know others not so, respecting their musical spirit and the path they paved for us.
3) What would you like to see happen through this day – short term and long term?
More Concerts , for every big city in the world ( like Paris) a page where the concerts are announced in a clear way.