Meet Our Organizers
Dilson Laguna, Brazil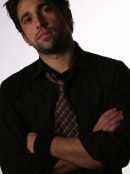 1) What does jazz music mean to you? To your community?

Jazz for me is spontaneity through an art form, it is the mix between tradition and future and a sophisticated way of expression that reach many hearts.
For my community it has become hope for many poor kids who live in less privileged areas, who found in jazz a passion, career and a way of living.
The spirit of collaboration we find in jazz helps to develop a better social community, and that's why we believe that jazz can contribute for a better society, particularly in a place like Brazil.
2) Why are you celebrating International Jazz Day? Why is it important?

We're celebrating this day to remind our community the importance of music and arts for the development of our culture and youngsters.
Also we want to serve as a platform for new and upcoming talents, reaching both an audience of jazz enthusiasts and new followers. It will be of great importance for us to contribute to our music scene and being part of a worldwide celebration like #IJD.
3) What would you like to see happen through this day – short term and long term?
We would love to see increasing the awareness of this genre in our country in the long term, as well as see more incentives to labels, artists and professionals involved in the jazz music industry. But for now, we just want to gather with other jazz devotees to celebrate and party together.