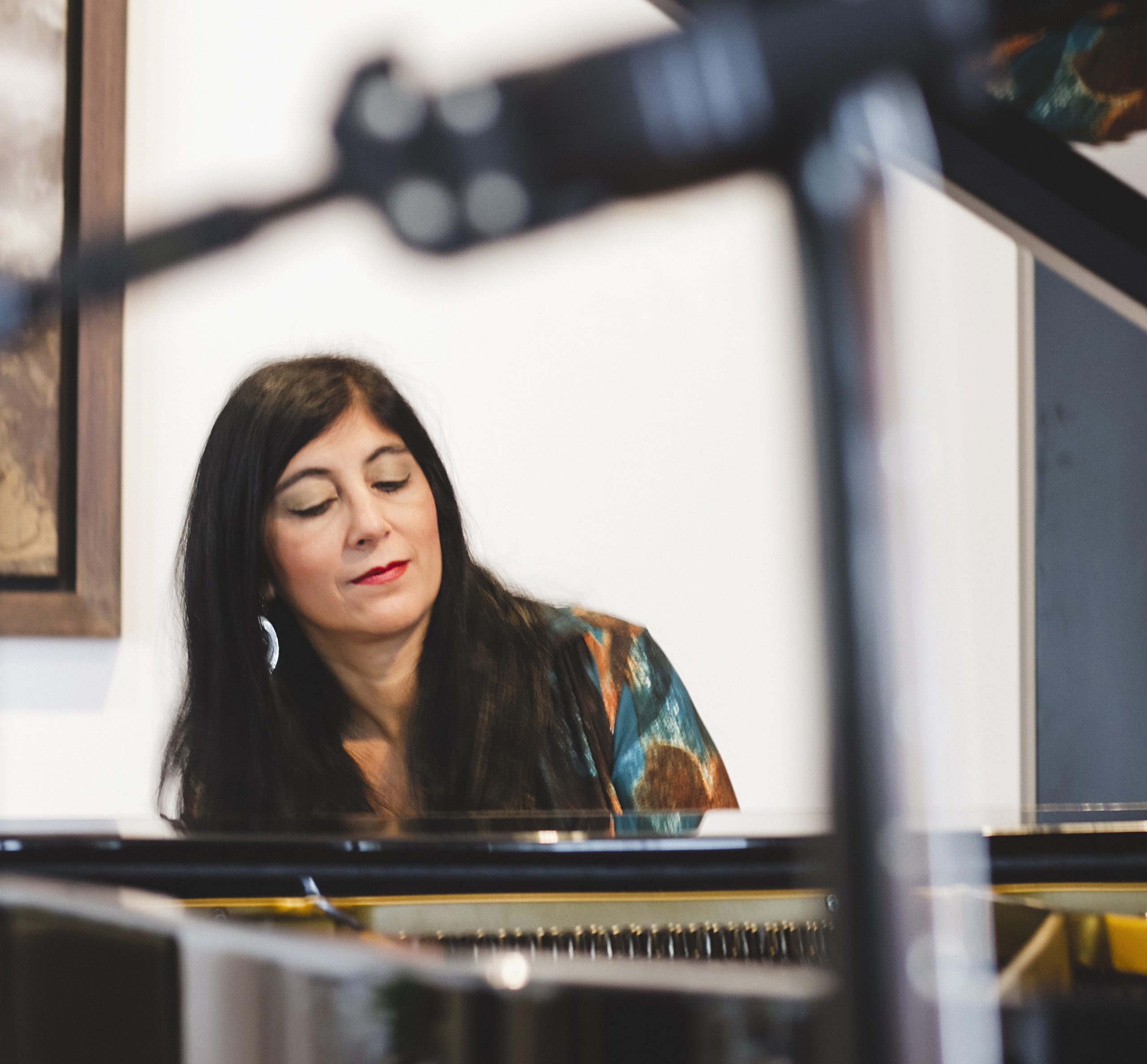 Ania Paz is an acclaimed Peruvian pianist and composer whose life and work combines cultural diplomacy, ethnomusicology, the folkloric traditions of Latin America, and pushing the boundaries of jazz using a host of other artistic disciplines. Read on to learn about Paz's remarkable path, including her longtime association with International Jazz Day.
---
Award-winning pianist and composer Ania Paz found her passion for music early in life—she began studying music at age 4 and penned her first composition at age 6. This passion led her all over the world, as she pursued her music studies in Germany and the United States and as she established her career as a pianist, composer, educator and researcher.
For Paz, International Jazz Day is an opportunity to raise awareness of the universal quality of jazz that aspires to bring cultures together and inspire innovation and creative freedom. Bridging different cultures through art and integrating different artistic disciplines are major themes that connect her professional pursuits. In the early 2000's, Paz produced the Ania Paz Jazz Series to offer a new way of "feeling" jazz as an art form that embraces all cultures. As part of a commission from the United Nations and the European Union, she produced and directed two multidisciplinary performances in the Dominican Republic that promoted the message of tolerance through art. The performances integrated artists of different musical genres and cultures and incorporated other forms of artistic expression such as dance, poetry, literature, theatre and visual effects. She herself participated with the Ania Paz Jazz Ensemble at two extraordinary concerts exploring the multicultural reach of jazz: Mujeres en el Jazz (Women in Jazz) at the Embassy of Germany in Santo Domingo (Dominican Republic), and Colores del Jazz (Colors of Jazz) at the Goethe Institute in Mexico.
As an educator, Paz created and directed the first Contemporary Latin Jazz course at FUNGLODE/Global Foundation for Democracy and Development in Santo Domingo and helped expand the curriculum of the Folkloric Department of the Dominican Republic's National Conservatory of Music. She teaches a variety of music courses at two Peruvian universities and has taught classes and conducted master classes at universities and music schools in Germany, the United States, Peru and the Dominican Republic. Paz received recognition from the University of Missouri-Columbia for her research on the influence of African rhythms on the American continent, and for her presentation of this research at the international convention of the Afro-Latin/American Research Association.
As a performer, Paz is known for her modern, driving sound and for her work fusing Caribbean and Afro-Peruvian styles. She has appeared at prestigious festivals the world over including the TCI San José Jazz Festival (USA), Rencontre autour du Piano (Guadeloupe), Festival Internacional JazzUV (Mexico), Buenos Aires Jazz (Argentina), Festival Internacional de Jazz de Valparaíso (Chile), Dominican Republic Jazz Festival, San Vicente Jazz (Argentina), Jazz en Lima and many others. She has also presented her music in theatre halls, jazz clubs and on television shows throughout Europe, the United States and Latin America. Her latest release, Dos Mondos, was recorded in Peru and the Dominican Republic with the aim of strengthening the cultural ties between these two Latin American nations through the universal language of jazz. The Ania Paz Trio continues to perform with the aim of creating a new sound in contemporary Latin jazz.
A longtime friend of International Jazz Day, Paz has showcased her syncretic, multicultural playing approach in Jazz Day partner events since 2017. In 2020, due to the ongoing impacts of the pandemic, Paz had to postpone her planned concert and talk at the Universidad Peruana Cayetano Heredia in Lima, but joined the worldwide virtual celebration of International Jazz Day with a stunning performance of her original composition, "NAIV," with guitarist Pierre Huarniz. "NAIV" premiered on April 30 on the official International Jazz Day channels.