Meet Our Organizers
Teca Macedo, Brazil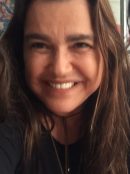 Location: Rio de Janeiro, Brazil
Years active: 2018
Event focus: Culture of peace, intercultural dialogue
Teca Macedo is new to celebrating International Jazz Day in 2018, but has been following the Day since its inception. An event promoter and producer in Brazil for more than two decades, Macedo has long been inspired by the capacity of jazz music to stimulate human connection.
"It's not only about good music," she says. "Jazz brings people together. Jazz is like life. You never know what is going to happen next; you have to really listen, be aware of what's going on around you. I believe we have to listen more to each other, we have to look more at each other. So that's why I decided to celebrate Jazz Day."
Teca firmly believes in the power of jazz to encourage peace and reconciliation. "I once heard a jazz musician say that when they're on stage playing jazz," she recalls, "they are all equals. That jazz is a nonviolent answer for all conflicts."
"We have to bring that concept to our lives. We have to learn from jazz."
Macedo will mark her first official celebration of International Jazz Day with an all-star concert at the Blue Note Rio, featuring nearly a dozen prominent Brazilian jazz musicians and groups, including the PianOrquestra, Carlos Malta, Claudio Dauelsberg, Gabriel Grossi, Luiz Otavio, Robertinho Silva and more. The 2018 program will also include an education program and performances throughout the day featuring students from "Favela Brass" and "Percussão na Maré," both local NGO's providing music education opportunities to children in Rio de Janeiro's favelas.
International Jazz Day is so pleased to have Macedo join the worldwide community of organizers for the first time in 2018.