Friends Of Jazz Society
USA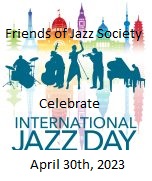 Tell us a little about your organization's mission.
We have come together to enjoy, educate, and inspire individuals on the Pal Talk chat site, on the genre of Jazz. Using videos, lectures, and personal experiences of persons on the site, to appreciate and enjoy Jazz in a more intimate way.
When have you celebrated International Jazz Day before?
2012, 2013, 2014, 2015, 2016, 2017, 2018, 2021
Why does your organization celebrate International Jazz Day?
To join in on the worldwide celebration of International Jazz Day, with associates on line.
Tell us about a favorite memory from International Jazz Day
The first year, starting in Paris, the morning session in Congo Square, and conclusion in the UN in New York City. I felt like I have travel with the artist. But through-out the years, I think the most impressive moments have been when "Imagine" has been sung.
How do you think jazz can improve people's lives?
Jazz has a uniting vibe within it, that transcends politics, racial, and economic divisions. It is a language to all can agree with.