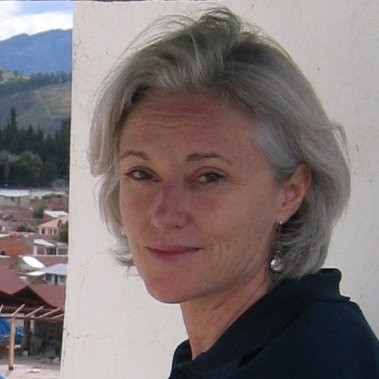 Shon Campbell is a jazz vocalist and devoted listener who manages the Myanmar Information Management Unit in the Office of the United Nations Resident and Humanitarian Coordinator in Yangon, Myanmar. She has been organizing International Jazz Day programming in Yangon since 2013.
---
Shon Campbell, an aid worker based in Myanmar, loves jazz and sometimes performs as a jazz singer. It was because of her jazz background that International Jazz Day organizers approached her in 2013 to organize an April 30 celebration in Myanmar, which at that time was the only UNESCO member state not planning a celebration. With very short notice, and no funding, Campbell found three local bands willing to donate their time and put on Myanmar's first International Jazz Day celebration for about 160 people at a local bar. As she noted at the time, "It was a modest but definite start."
Looking to expand from this modest beginning, in 2014 Campbell and her colleague Matt Maguire organized a concert in the garden of the local Institut Français, with rented sound equipment funded by the Goethe Institute. Friends and colleagues pitched in to publicize and produce the event, and local and expatriate musicians donated their time to perform for hundreds of attendees.
In 2015, Campbell began broadening Yangon's International Jazz Day activities to include educational and outreach programs featuring professional jazz musicians from around the world. Visiting artists have included American guitarist and vocalist Dave Mooney (2015), Swedish guitarist Susanna Risberg (2016), and jazz trumpeter Mike Cottone (2017). The international musicians conduct workshops for local jazz players and interface with the community through culminating concerts. The Institut Français has continued to host each year's Jazz Day concert in its garden, with a remarkable level of support from individuals, local businesses, and even the American and Swedish embassies. The concert consistently proves a draw for music lovers in Yangon; in 2015, more than 600 people attended, making it the largest crowd ever seen at an evening event at the Institut. This record was broken the very next year, when attendance exceeded 1,100.
The International Jazz Day concerts and workshops give much needed exposure and learning opportunities to talented jazz musicians in Myanmar, most of whom are self-taught. While jazz was very popular in the country during the 1960s, most young people know nothing about the genre and performing opportunities for jazz musicians are extremely limited. In 2014, Campbell expressed a hope that International Jazz Day in Myanmar might "give others a window into the talents of some of Myanmar's musicians, and especially…allow more of them to work full time on their music." Thanks to her incredible work, both of these goals have grown a little closer to fulfillment.