Meet Our Organizers
Grupo Jazz a la calle, Uruguay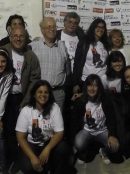 1) What does jazz music mean to you? To your community?
We think of jazz not as a style or musical genre, but as one of the world's most highly evolved ways to approach music. This approach contributes to the respectful development of ethnic musics and generates an attitude towards life that is applicable to the everyday tasks of any community.
2) Why are you celebrating International Jazz Day? Why is it important?
The foundation and creation of International Jazz Day have resulted in a strong affirmation of our organization's reason for being. For our institution it has been and continues to be very difficult to propagate in our community, which is so distant from the origins of jazz, the philosophical concepts which define this music. The fact that our movement is now associated with a current of universal thought reinforces the validity of our mission to bring quality music to all possible areas – including in public, hence the name "Jazz a la Calle" (Jazz in the Street).
3) What do you hope for in celebrating this Day?
With music, we celebrate unity and an approach centered around diversity. Through jazz we are united even in distinct areas of our planet. We celebrate so that the hard work done by Jazz a la Calle for so long, affecting hundreds of people in our community, might start to be seen as a credible option for social change.