Meet Our Organizers
Jorge Luis Lardone, Argentina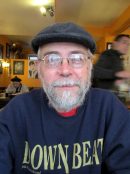 1) What does jazz music mean to you? To your community?

Jazz is a universal language and to me, it is the music that best expresses the need of human beings to live in freedom. It is also the soundtrack of my life, I have been listening to jazz since I was 4 years old (Louis Armstrong, Duke Ellington, Count Basie, Erroll Garmer, Jonah Jones, Benny Goodman) 64 years ago and I will die listening to jazz.
In my community jazz does not mean much. It is a very closed, nationalist and uneducated community. There are many people who identify jazz as the "music of the American imperialists". Yes, believe it or not.
However, there is a modest activity with a pair of festivals a year. Unfortunately in the last 100 years very few internationally known musicians have played in the city.
2) Why are you celebrating International Jazz Day? Why is it important?

It is a good way of propagate jazz in our community, which is so distant from the origins of this music. Jazz Club Gato Barbieri is a non for profit cultural organization and is working since 1990 (born as Jazz Club San Rafael) and for us is very important to organize the very first event in Mendoza celebrating Internacional Jazz Day.
3) What would you like to see happen through this day – short term and long term?

I hope that gradually more people would enter the fascinating world of jazz and that in the future there is a real jazz community in the city. Also I hope that great jazz world musicians will play in Mendoza.