Meet Our Organizers
International Jazz Day AZ Foundation, USA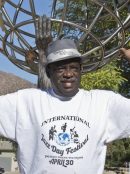 Location: Arizona, USA
Years active: 2012 – present
Event focus: Performance, education, community engagement
The International Jazz Day AZ Foundation aims to use their annual celebration of International Jazz Day to raise the profile of jazz and arts education in the state of Arizona. Led by musician, entrepreneur, magazine publisher and jazz advocate William "Doc" Jones, the Foundation was responsible for uniting state officials around the recognition of International Jazz Day on April 30. Since 2012, Jones and the Foundation have organized a range of Jazz Day celebrations each year, bringing renowned musicians such as Azar Lawrence, Tony Monaco, Jesse McGuire to audiences in Phoenix, Mesa, Scottsdale and beyond, and raising funds for organizations including the NextStudent Academy, the Academy of Excellence and the Boy Scouts of America.
Tell us a little about your organization's mission.
We are a 501(c)(3) nonprofit with the mission to unite the state around a resolution proclaiming April 30 International Jazz Day in the State of Arizona.
Why does your organization celebrate International Jazz Day?
Not only have I been a professional jazz musician for 30 years, I have also been a music educator using jazz as a means to reduce crime in my community, as well as to promote staying in school for young people at risk.
Tell us about a favorite memory from International Jazz Day.
My favorite memory is when the full Arizona House and Senate, as well as the Governor and 8 Mayors from around the State all presented us with a proclamation declaring April 30th International Jazz Day, as well as our 2nd "Jazz At Lunch Time" at the State Capitol.
How do you think jazz can improve people's lives?
It allow those who are listening or playing this form of music the opportunity to be creative.
Learn more about the International Jazz Day AZ Foundation here.