Meet Our Organizers
Kurt Wilson, Dubai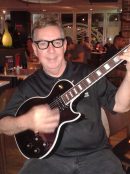 1) What does jazz music mean to you?
Jazz music to me is special as it allows musicians the freedom to create their own signature sounds with their instruments…whether a certain thumb slap/finger pluck on bass, or holding notes on trumpet, and recognizable melodic styles on keys…all the while challenging as this requires discipline, commitment and practice.
For your community?

The community benefits in many ways but in particular when music is included as part of the high school system curriculum. It is scientific fact that children who play music (especially jazz band) excel in math and science…have a higher chance of graduating and going on to university. ..thus returning to their community as an educated workforce.
2. Why are you celebrating International Jazz Day?
It is an opportunity to share the message and mission of IJD to a demographic that for the most part have little or no exposure to jazz music, nor how jazz music transcends language, politics or religious boundaries.
Why is it important?
By presenting live jazz and blues to a new audience through an international forum such as IJD, I am confident this will help to build a strong following of new jazz fans and in doing so will influence more venues in Dubai and other Emirates to present live jazz and blues on a consistent basis.
3. What would you like to see happen through this day – short term and long term?
Short term is to generate awareness of IJD and the many benefits to all societies that jazz offers.
Long term is to establish a venue/s to present live jazz and blues on a permanent basis. Establish an annual international jazz and blues festival. Establish more music educational offerings in both private and public schools. And finally, to lobby the government to ease restrictions on musicians' abilities to perform on any stage at will…which will promote improvisation, the life blood of jazz and blues music.