Meet Our Organizers
Hannibal Saad, Syria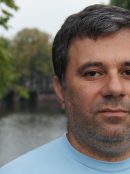 Location: Rotterdam, Netherlands
Participating Years: 2014 – present
Organization: Jazz for Syria
Event focus:  Jazz for peace building and reconciliation; fundraising for Syrian refugees
Syrian musician, festival creator and cultural entrepreneur Hannibal Saad believes that jazz is a language with no boundaries. This belief stems from his more than 18 years of experience organizing festivals and projects using music from the East and West as a platform for cultural exchange. His first such initiative, Jazz Lives in Syria, which launched in 2004, brought together Syrian and international musicians for seven annual festivals that were the largest musical events in Syria.
Jazz Lives in Syria, says Saad, "aimed from the very beginning to pave the way towards a solid Syrian jazz music movement…In 2010, we were proud to give space and support for 10 bands. We also worked with many children in order to promote a grassroots movement for jazz. In our experience, people accept jazz easier when they can relate it to something they are familiar with—especially when it comes from their own culture. The Syrian music scene, with its rich and diversified musical heritage, is already regionally and internationally recognized."
Building on the success of Jazz Lives in Syria, Saad established the Syrian Big Band, the first of its kind in the Arab world. The group worked with international musicians, composers and trainers to develop and perform its unique blend of jazz inspired by traditional Syrian music. Saad also began an annual concert series titled International Oriental Landscapes, as well as conferences exploring the origins and different forms of Maqam, a system of melodic modes used in Arabic music. Saad is particularly interested in the musical influences of ancient Syria and Iraq, as well as their neighbors in the Middle East.
Escalating conflicts in Syria led to Hannibal's displacement, as well as that of many Syrian Big Band musicians. Acting on his strong belief that music can help bring about peace and reconciliation, Saad has worked tirelessly to organize events that keep Syrian music alive and raise funds for Syrian refugees, using International Jazz Day as a vector for delivering a message of peace. He views Jazz Day as a means of bringing others in touch with the intangible cultural heritage of his home country: "Having a day like this," he says, "…is a miracle in itself. It is important to savor the ecstasy of life. Those few beautiful moments of our lives. Jazz is a mix of immediate expressions of feeling about the present, which summarize many immeasurable things. Sharing these moments with many people around the world is even more beautiful. We want to share with the world beautiful things about Syria."
In 2014, Saad worked with organizers in Jordan, Lebanon and the Netherlands to celebrate International Jazz Day with simultaneous Jazz for Syria concerts. In 2015, Jazz for Syria celebrated International Jazz Day as part of a Global Week for Syria festival, featuring participation from more than 40 Syrian musicians and 100 international artists. More recently, members of the Syrian Big Band performed at the International Jazz Day celebration organized by Codarts University in the Netherlands to emphasize the humanitarian aspects of International Jazz Day.
Saad continues his efforts to promote cultural exchange and open dialogue for cultures in conflict through initiatives like the Oriental Landscapes festival, Global Week for Syria, Jazz for Syria, and others, with the aim of safeguarding the cultural heritage of the Middle East.