Pacific Public Media/KNKX-Jazz24
USA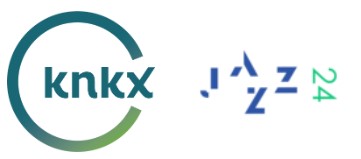 KNKX is a U.S.-based public radio station that has served America's Pacific Northwest since 1966, with a special focus on broadcasting quality jazz and blues music.
---
"If you're serious about jazz, you're going to discover a lot about yourself. If you let it, jazz can change people's lives for the better."
Tell us a little about your organization's mission
KNKX is an NPR/Jazz Radio station connecting listeners to Jazz, Blues & News with a 24 hour streaming Jazz station, Jazz24.org. Our mission is to inspire, inform and entertain through world-class jazz world wide.
Why does your organization celebrate International Jazz Day?
Jazz is a music that mirrors the U.S. in the 19th-20th centuries–a melting pot of cultures with waves of immigrants landing on our shores. Our ancestors from France and Spain, Great Britain and Ireland, the Caribbean and the Americas–ALL brought their musical traditions and instruments which entered into the lexicon of early American music.
The most important part of the mix that tipped the scales in the creation of jazz came from a new people with a singular AND virtually unheard music and rhythms. Black America brought Africa to the continent with music going back to the first instrument, the drum.
We continue to bring the melting pot that is jazz to our audience world wide. Jazz is a sponge welcoming the influences of other cultures and peoples into the mix and we celebrate the diversity that continues to inform, influence and help jazz thrive around the globe.
Tell us about a favorite memory from International Jazz Day
As broadcasters for the Pacific Northwest Region of Washington State in the U.S., we reach into the British Columbia province of Canada. In the middle of COVID "stay at home," when no one was touring, we were able to stream a live performance with saxophonist Cory Weeds and his trio from Vancouver BC. Everyone was starved for live music and it was wonderful to hear jazz performed live in the moment again in a dark time.
How do you think jazz can improve people's lives?
The rich diversity of jazz styles means there is a jazz for everyone. Fun, enriching, playful, serious, contemplative, cerebral or joyful, this music with it's long heritage speaks to the soul. Whether singing along to a jazz standard, dancing to retro-swing, or just sitting and thinking, it brings depth to life.