Meet Our Organizers
Antonio Lozoya & Teresa Urtusástegui, Mexico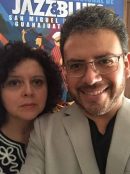 Location: San Miguel de Allende, México
Participating Years: 2014 – present
Organization: Festival Internacional de Jazz & Blues San Miguel de Allende
Event focus: Performance, cultural exchange
Antonio Lozoya and Teresa Urtusástegui are professional musicians, educators, promoters and the organizers of the annual International Festival of Jazz and Blues in San Miguel de Allende, Guanajuato, Mexico. The festival, which Lozoya describes as "the longest running in the country," celebrated its 25th anniversary in 2018.
International Jazz Day, for which Lozoya and Urtusástegui have led celebrations in San Miguel de Allende for the past four years, represents a natural extension of the duo's year-round ambitions for their Festival. The Festival, Lozoya says, aims to show that jazz "is the best example of how to explain to the world that no matter where you come from and what language you speak, [you can] share music with honesty and humility, create a musical conversation instantly with improvisation and develop new experiences." Lozoya's dedication to creating these musical conversations in his local community has earned him notice, and the title of "the syncopated warrior of San Miguel de Allende."
Since 2014, each year on April 30 the Festival Internacional de Jazz & Blues organizes a special performance featuring a range of Mexican and international artists. Performances take place in the city's Angela Peralta Theater, a cultural landmark built in 1873 and situated in the heart of downtown San Miguel de Allende. A recent edition introduced the audience in Guanajuato to talented performers from the United States, France and Cuba. This multinational concert each year parallels the exchange taking place in the Global Host City as part of the All-Star Global Concert.
Lozoya and Urtusástegui express the hope that their country's International Jazz Day celebrations can eventually coalesce with another important Mexican observance – El Día del Niño, or Children's Day – which also takes place on April 30. "Jazz musicians, like children," says Lozoya, "are open to sharing together, and no matter where you are, they just want to 'play.'" The pair envisions a day filled with activities using jazz music to connect people of all generations.
"We have to invest time, love, education and culture in the young generations, because they are the immediate future of our society."
In honor of the first-ever virtual edition of International Jazz Day in 2020, Lozoya and Urtusástegui organized a virtual performance by the Hot Club de San Miguel, a gypsy jazz group led by Lozoya.