Global Interviews
Hannibal Saad, Syria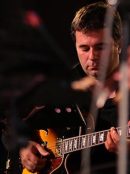 1) What does jazz music mean to you? To your community?
For me, Jazz is a language that has no boundaries.
This is why our "Jazz Lives in Syria" festival aimed from the very beginning to pave the way towards a solid Syrian jazz music movement, starting from 2004, when we established a big band to be an incubator for musicians to get more involved in jazz. In 2010, we were proud to give space and support for ten bands. We also worked with many children in order to promote a grassroots movement for jazz. In our experience, people accept jazz easier when they can relate it to something they are familiar with – especially when it comes from their own culture. The Syrian music scene, with its rich and diversified musical heritage, is already regionally and internationally recognized.
2) Why are you celebrating International Jazz Day? Why is it important?
For me it is a day of sharing music with the world, of celebrating the miracle of peace through music. Since the war in Syria shattered our lives, I decided not to take things for granted. Having a day like this is a miracle in itself. It is important to savor the ecstasy of life. Those few beautiful moments of our lives. Jazz is a mix of immediate expressions of feeling about the present which summarizes many immeasurable things. Sharing these moments with many people around the world is even more beautiful. We want to share with the world beautiful things about Syria.
3) What do you hope for in celebrating this Day?
I hope this international gathering through this great art form brings more happiness and peace to people around the world. Group participation brings more energy for a good cause. Even though Jazz is a sophisticated art form that comes from an amalgam of cultures and human experiences, I hope people will come together for common enjoyment of simple things. The power and simplicity of enjoying life.
I had my house blown up when I was in Damascus two years ago along with the entire neighborhood. I was asleep when the explosion happened. It was a miracle that we survived. Since then, I have a new life. It is still not easy to cope with the current personal and national crises, but I am much more alive than before and want to do what I was destined to do, to help my culture however I can. Jazz Day can help my project to be known.