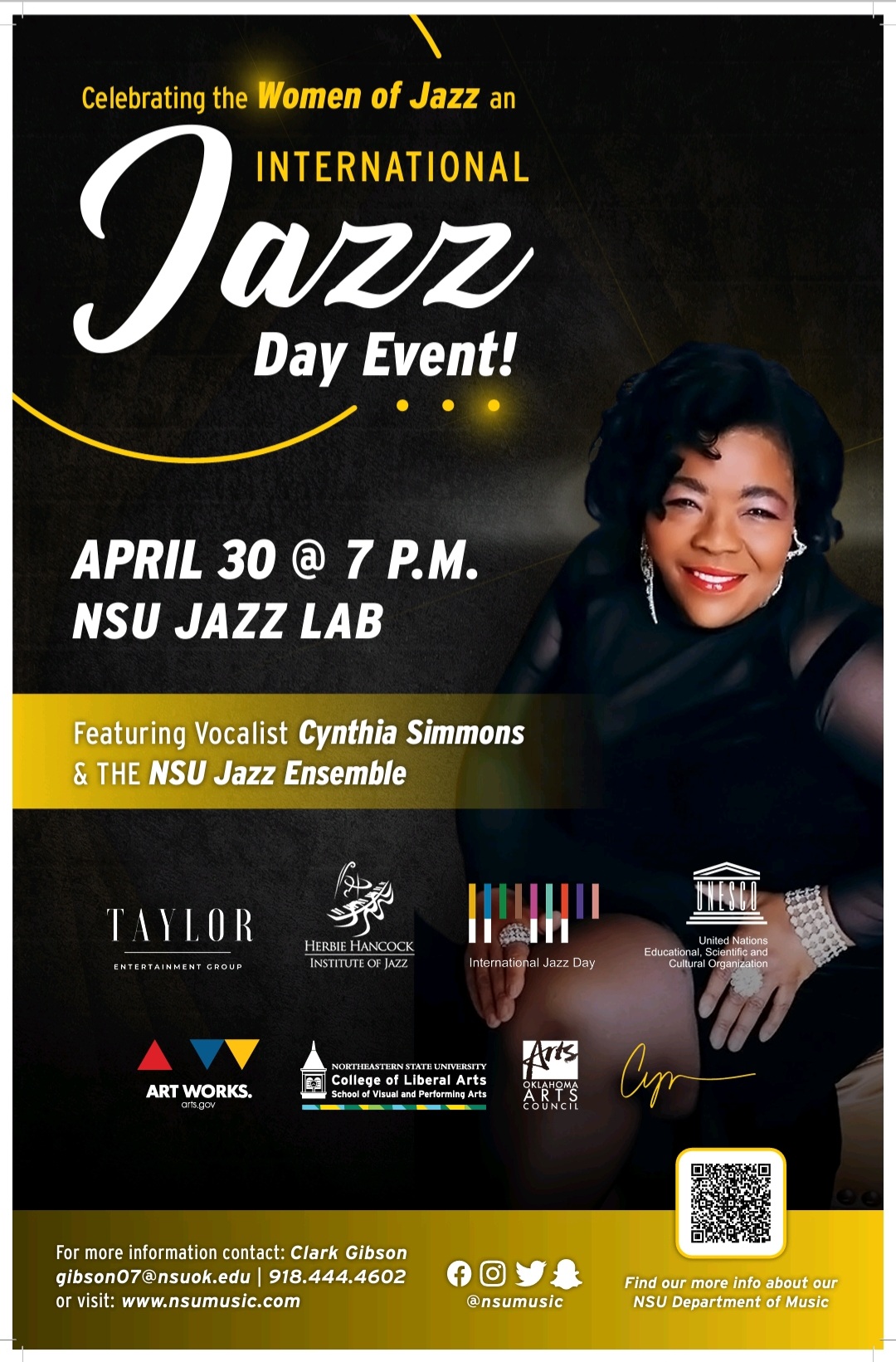 TulsaJazz.com and The Taylor Entertainment Group are thrilled to announce Celebrating the Women of Jazz performed by the NSU Jazz ensemble under the direction of Dr. Clark Gibson, featuring Jazz Vocalist and National Recording Artist Cynthia Simmons. The program will feature music from some of the greats like Sarah Vaughan, Ella Fitzgerald, Nina Simone, and more. The night is also special because it is the release of Cynthia's album "Original Cyn", which features her performing some of her favorite Jazz standards.
We would like to thank Dr. Clark Gibson, Northeastern State University and their Jazz Program, the NSU Jazz Ensemble, the Oklahoma Arts Council, Art Works, Northeastern State University College of Liberal Arts, and the School of Visual and Performing Arts for making this event possible.
The concert takes place at the NSU Jazz Lab on Sat April 30th 7 pm on the campus of Northeastern State University in Tahlequah, OK. This event is free and open to the public.
International Jazz Day is the culmination of Jazz Appreciation Month, which draws public attention to jazz and its extraordinary heritage throughout April.
In December 2012, the United Nations General Assembly formally welcomed the decision by the UNESCO General Conference to proclaim April 30 as International Jazz Day. The United Nations and UNESCO now both recognize International Jazz Day on their official calendars.
For more information go to www.jazzday.com.
Organizer(s)
Taylor Entertainment Group LLC
Contact Person: John Taylor
Tel: +19188129902
Email: [email protected]
More Celebrations in United States for International Jazz Day 2022