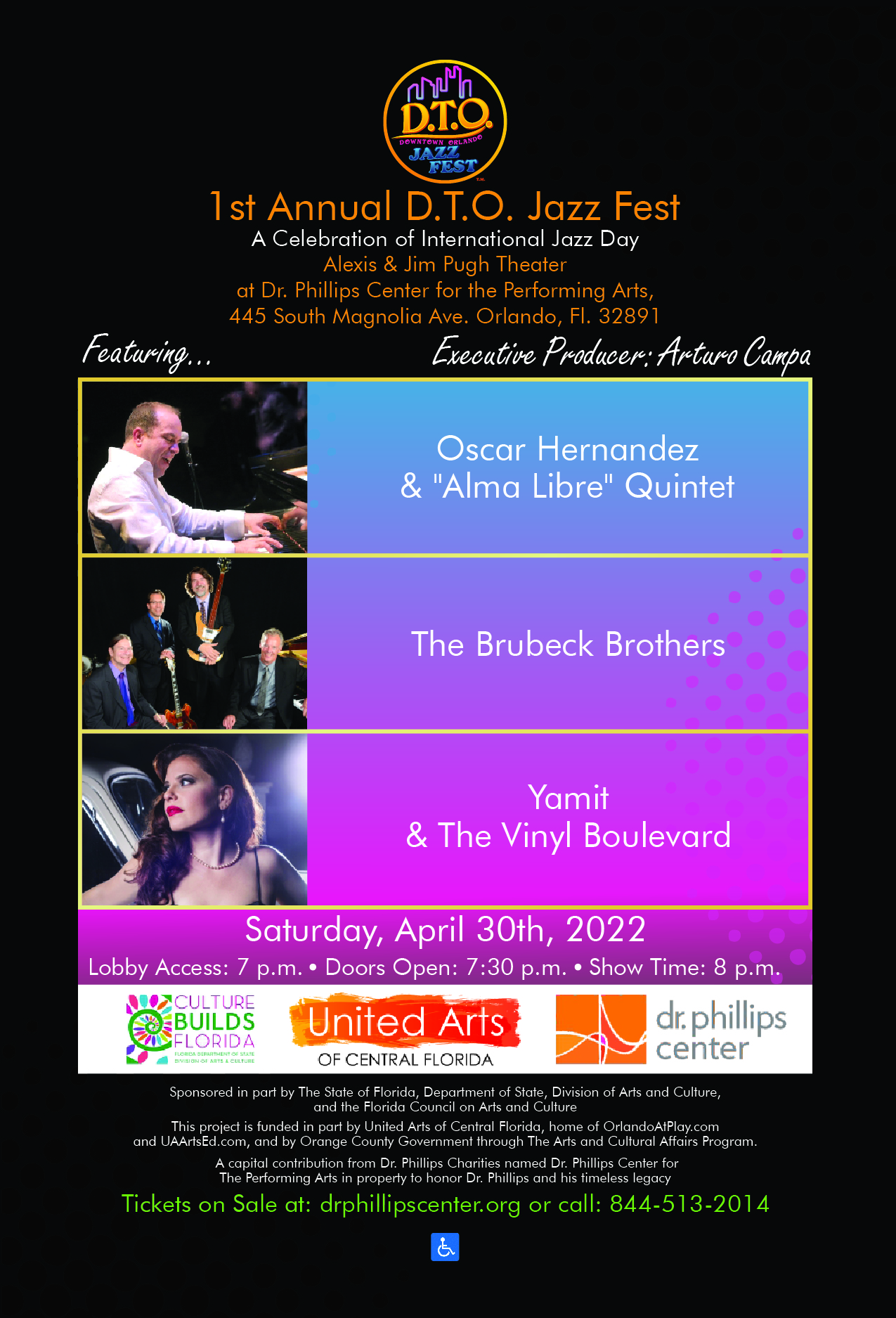 The first Annual D.T.O. Jazz Fest will be making its debut on Saturday, April 30th, 2022, at the Alexis & Jim Pugh Theater in the Dr. Phillips Center for the Performing Arts.
Formerly the Miami International Jazz Fest, the festival presented its first edition at the South Miami Dade Cultural Arts Center in 2014. Since then, many jazz performances have been brought to multiple venues in the greater Miami area to the delight of Festival attendees during seven consecutive yearly presentations.
Our maiden voyage includes a true smorgasbord of jazz presentations performed by a fantastic roster of jazz artists, including GRAMMY Award-winning pianist, composer and educator Oscar Hernandez and his Alma Libre Quintet; the Brubeck Brothers Quartet; and Yamit & The Vinyl Blvd.
Schedule: Access to the Lobby @ 7:00 p.m., Theater Doors open: @ 7:30 p.m., Show starts: @ 8 p.m.
• 8 p.m. to 9 p.m. Yamit and The Vinyl Boulevard
• 9:15 p.m. – 10:30 p.m. The Brubeck Brothers Quartet
• 10:45 p.m. – 12:00 midnight. Oscar Hernandez & Alma Libre Quintet.
Purchase tickets online @: drphillipscenter.org or by calling: 844-513-2014
Students 16 & Older presently enrolled in a (Junior High—University) Public or Private School in Orange County can purchase tickets (one per student) at a 40 % discount at the Theater Box Office only.
Organizer(s)
D.T.O. Jazz Fest Inc.
Contact Person: Arturo Campa
Email: [email protected]
More Celebrations in United States for International Jazz Day 2022