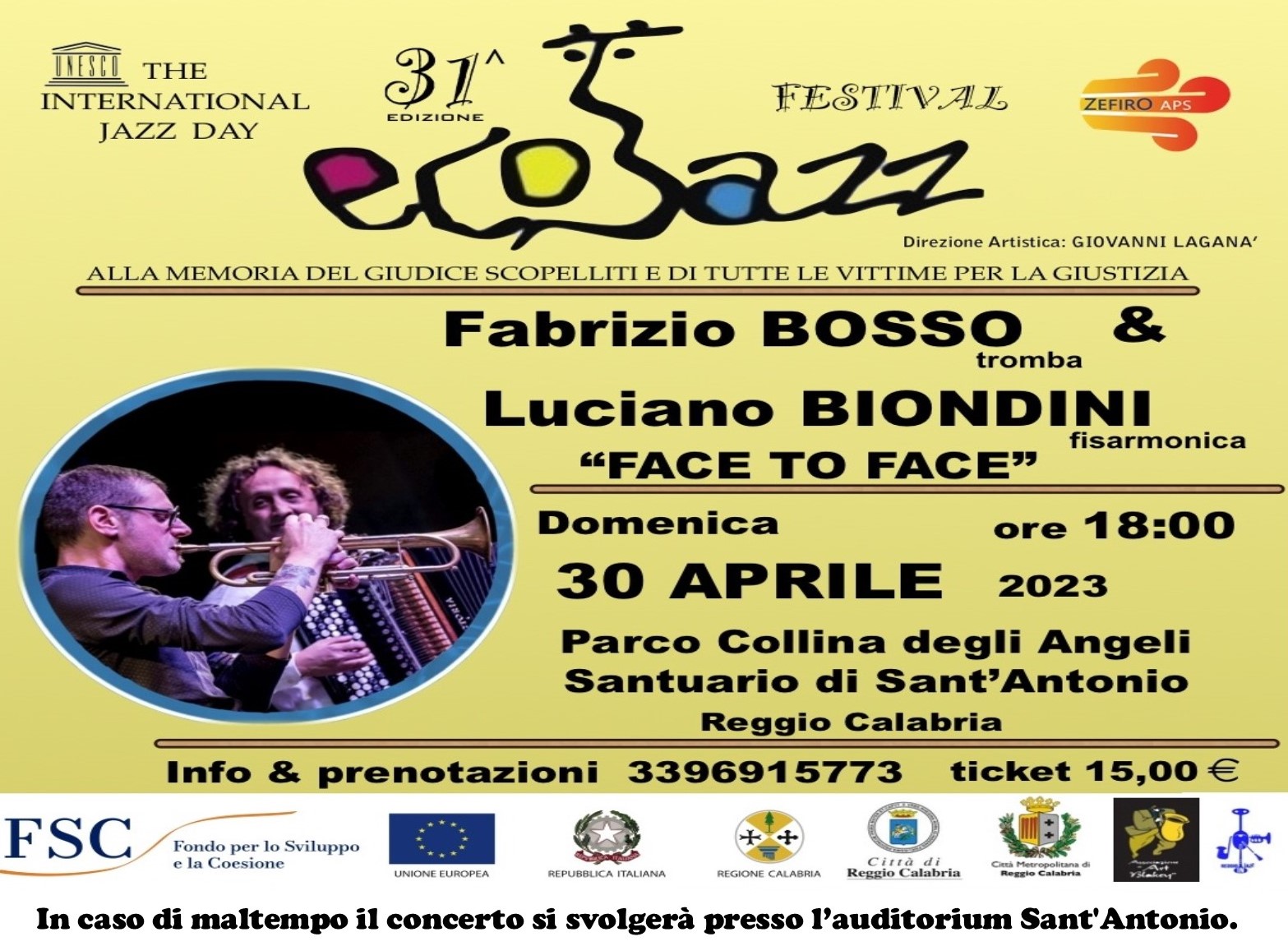 Ecojazz 31 edizione Fabrizio Bosso e Luciano Biondini "Face to Face"
04/30
18:00
Un particolare "faccia a faccia" da "pari a pari" dove i due grandi artisti si muovono magistralmente insieme tra improvvisazione jazzistica e influenze mediterranee dando vita ad un dialogo ricco di profonda empatia. Un dialogo tra "pari" senza leadership.
Luciano Biondini fisarmonicista dal tocco impeccabile, dialoga con Fabrizio Bosso i cui suoni raggiungono una grande e pregevole intensità artistica fatta di improvvise incursioni "irruente e di delicate e dolci alchimie.
Ascolteremo brani di Bosso e brani di Biondini unitamente a standard riconoscibili da un punto di vista melodico.
###
A particular "face to face" from "equal to equal" where the two great artists masterfully move together between jazz improvisation and Mediterranean influences, giving life to a dialogue full of profound empathy. A dialogue between "peers" without leadership.
Luciano Biondini accordionist with an impeccable touch, converses with Fabrizio Bosso whose sounds reach a great and valuable artistic intensity made up of sudden "irruptive" incursions and delicate and sweet alchemies.
We will listen to pieces by Bosso and pieces by Biondini together with recognizable standards from a melodic point of view.
Organizer(s)
Zefiro aps
Contact Person: Maria Piccolo
Tel: + 393396915773
Email: [email protected]
Parco Archeologico della Collina degli Angeli
Collina degli Angeli
Via Don Orione
Reggio Calabria, Calabria 89124
More Celebrations in Italy for International Jazz Day 2023