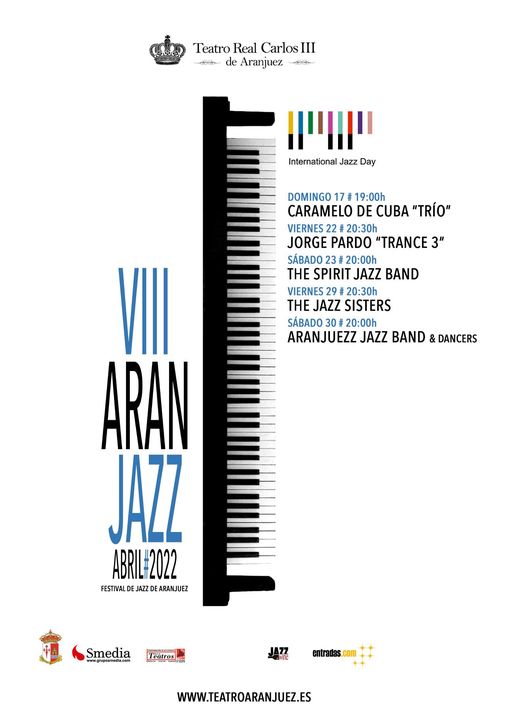 Festival de Jazz que alcanza su Octava edición. Arrancando el 17 de Abril con el pianista cubano Caramelo de Cuba, para seguir el 22 de Abril con Jorge Pardo, 23 de Abril, Spirit Jazz Band, el 29, The Jazz Sisters y el día 30 con la Aranjuezz Jazz Band acompañada por varios bailarines de lindy hop.
Esta edición consolida nuestra apuesta por el Jazz y el swing en el Municipio de Aranjuez de la Comunidad de Madrid.
###
A Jazz Festival now celebrating its eighth edition. Starting on April 17 with the Cuban pianist Caramelo de Cuba, to continue on April 22 with Jorge Pardo, April 23, Spirit Jazz Band, on April 29, The Jazz Sisters and on April 30 with the Aranjuezz Jazz Band accompanied by several lindy hop dancers.
This edition consolidates our commitment to Jazz and swing in the Municipality of Aranjuez in the Community of Madrid.
Organizer(s)
Ayuntamiento de Aranjuez
Contact Person: Manuel Praena
Tel: +34691034348
Email: [email protected]
Teatro Real Carlos III
C/San Antonio s/n - Teatro Carlos III
C/San Antonio s/n - Teatro Carlos III
Aranjuez, Madrid 28300
More Celebrations in Spain for International Jazz Day 2022