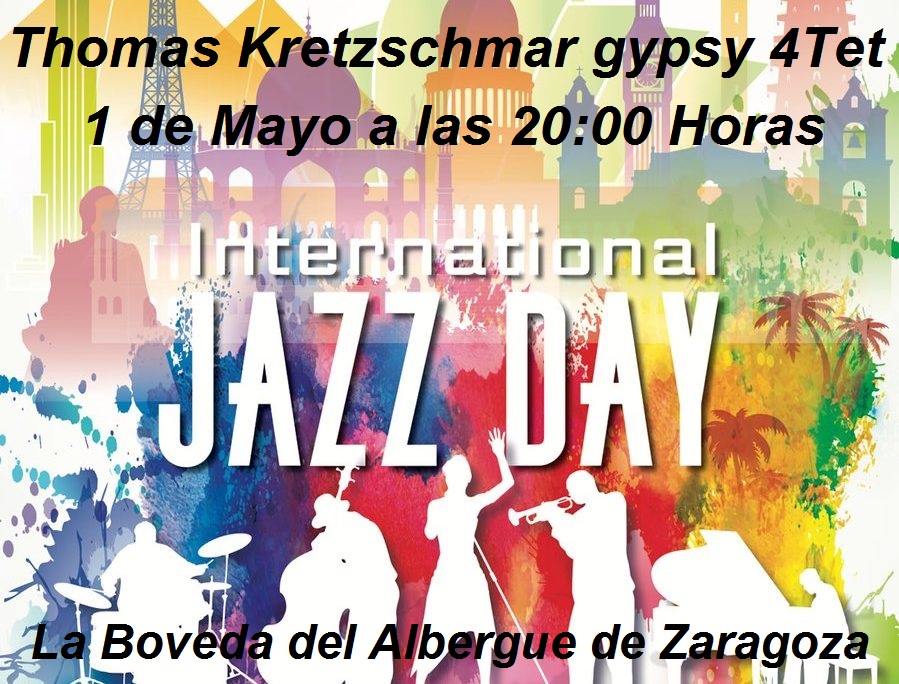 Con su violín como único equipaje, Thomas Kretzschmar ha recorrido numerosos países, desde el área mediterránea hasta América latina. Pero lleva algún tiempo afincado en Zaragoza, España. Ha encontrado ahí una nueva inspiración para crear.
Una cosa nunca le ha abandonado: un amor sin límites por la música de Stéphane Grappelli, maestro de la escuela francesa del violín dentro del jazz. Con su cómplice el genial gitano Django Reinhardt, Grappelli supo inventar, ya desde los años 30, un jazz europeo "sin trompeta ni tambor".
Tras la muerte de Django, Grappelli siguió solo su camino y muchas veces actuó a trío o a cuarteto con guitarra(s) y contrabajo. Por ejemplo con Martin Taylor, Marc Fosset o Patrice Caratini. También con Joe Pass y
###
With his violin as his only baggage, Thomas Kretzschmar has toured numerous countries, from the Mediterranean area to Latin America. But he has been living in Zaragoza, Spain for some time. He has found there a new inspiration to create.
He has never abandoned one thing: a boundless love for the music of Stéphane Grappelli, master of the French violin school within jazz. With his accomplice, the brilliant gypsy Django Reinhardt, Grappelli knew how to invent, already in the 1930s, a European jazz without trumpet or drum.
After Django's death, Grappelli followed his lead alone and often performed as a trio or quartet with guitar(s) and double bass. For example with Martin Taylor, Marc Fosset or Patrice Caratini. He also with Joe Pass and
Organizer(s)
La Boveda del Albergue de Zaragoza
Contact Person: Jose Juste
Tel: + 34639586192
Email: [email protected]
La Boveda del Albergue
La Boveda del Albergue
Calle de los Predicadores zaragoza españa
Calle de los Predicadores, 70 Zaragoza, España
Zaragoza, Aragón 50003
More Celebrations in Spain for International Jazz Day 2022