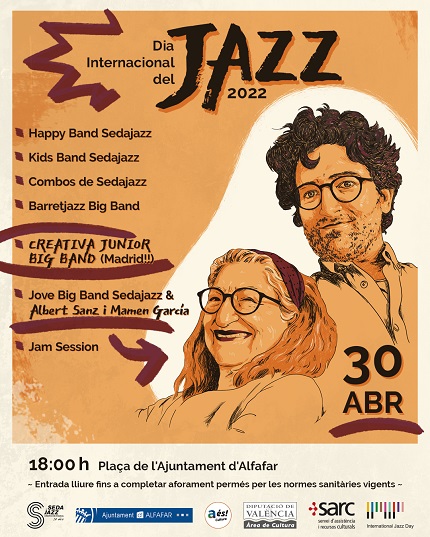 Sedajazz organiza junto al Ayuntamiento de Alfafar (Valencia- SPAIN), el Dia Internacional del Jazz, once años consecutivos en los que el Jazz inunda la plaza de Alfafar mediante la participación de mas de 100 músicos organizados en diferentes formatos orquestales, ensembles, big band o combos, un evento en el que queremos transmitir la hermandad y la paz como primordial mensaje.
Seis horas de conciertos de Jazz con invitados muy especiales como la Creativa Junior Big band que vienen desde Madrid o Albert Sanz con Mamen Garcia acompañados por la Jove Big band Sedajazz, además de la participación de numerosos grupos del colectivo Sedajazz.
El dia 30 de Abril venid a celebrar con nosotros el dia internacional del Jazz.
Os esperamos. 
###
Sedajazz organizes, together with the City Council of Alfafar (Valencia- SPAIN), the International Jazz Day, eleven consecutive years in which Jazz floods the Plaza de Alfafar through the participation of more than 100 musicians organized in different orchestral formats, ensembles, big band or combos, an event in which we want to convey brotherhood and peace as the primary message.
Six hours of Jazz concerts with very special guests such as the Creativa Junior Big band who come from Madrid or Albert Sanz with Mamen Garcia accompanied by the Jove Big band Sedajazz, in addition to the participation of numerous groups from the Sedajazz collective.
On April 30th, come celebrate with us the International Jazz Day.
We wait for you.
Organizer(s)
Sedajazz
Contact Person: Carmen García
Tel: + 34 963765655
Email: [email protected]
More Celebrations in Spain for International Jazz Day 2022