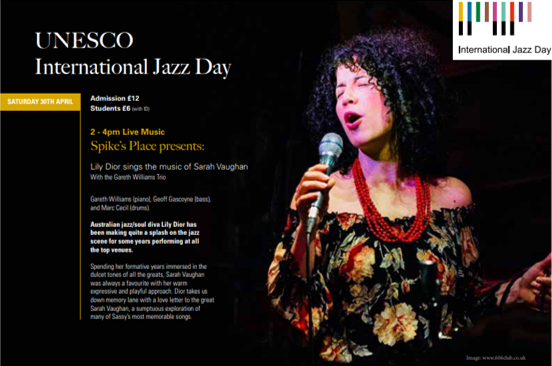 The Jazz Centre UK is the UK's only cultural centre for jazz and we're pleased to present the superb Australian jazz voice of Lily Dior...not just hands across the ocean, but hands across the globe!
In partnership with our friends at Spike's Place, Lily takes us through the incredible song book of Sarah Vaughan supported by the phenomenal Gareth Williams Trio.
Showcasing the powerhouse of women in jazz, proceedings start with a huge international welcome from our CEO Mark Kass and Spike's Place Founder Susan May and during breaks in the performance, audiences will get to experience our History of Jazz and UK Jazz Greats displays and our new walk-through of our incredible Jazz Album Cover Expo.
Happy International Jazz Day, World!
Organizer(s)
The Jazz Centre UK
Contact Person: Mark Kass
Tel: +44 7874074833
Email: [email protected]
More Celebrations in United Kingdom for International Jazz Day 2022