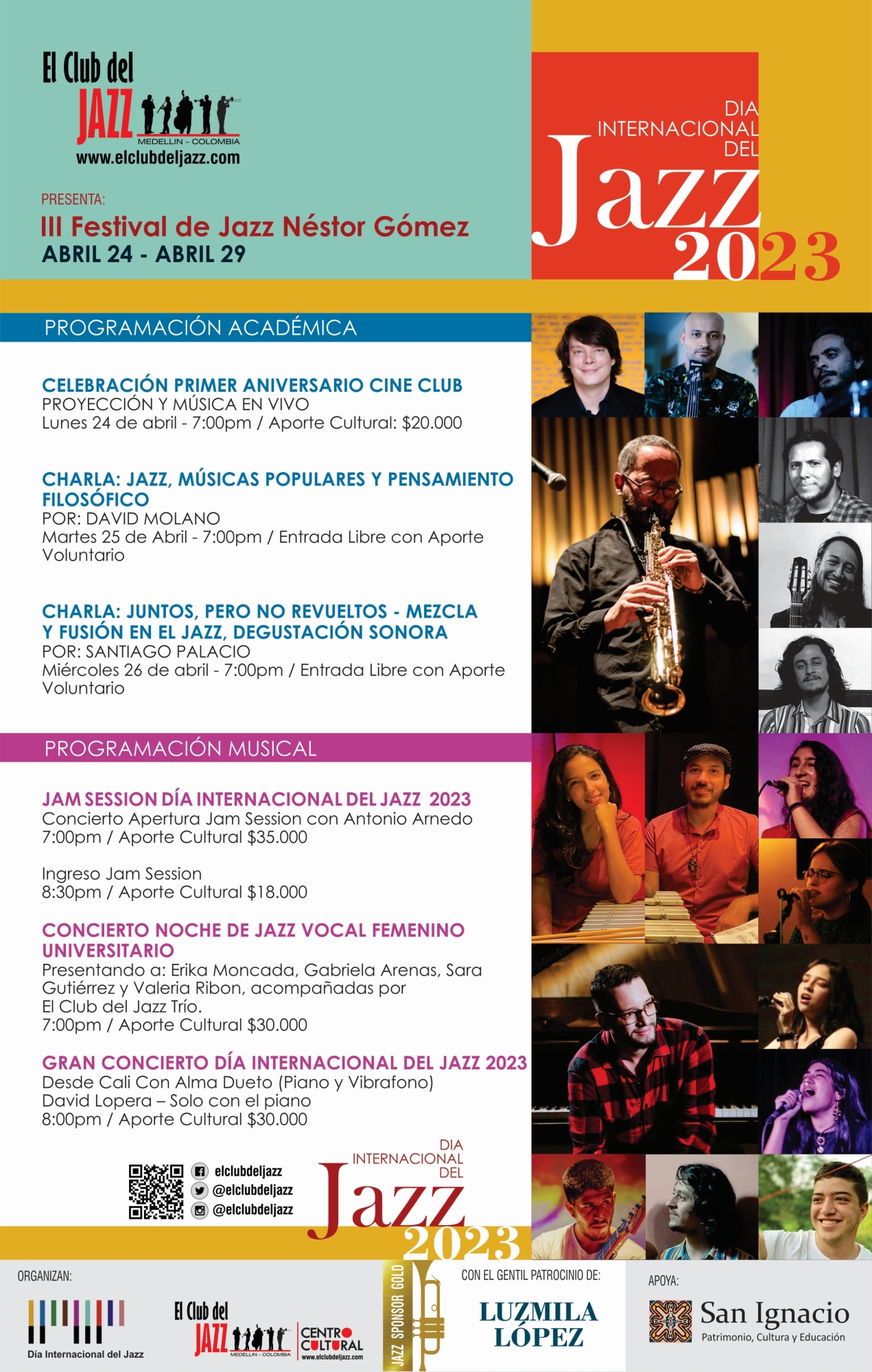 En el marco de las celebraciones del *Dia Internacional del Jazz 2023*, y la tercera versión del Festival de Jazz Néstor Gómez
El Club del Jazz, Presenta:
GRAN CONCIERTO DIA INTERNACIONAL DEL JAZZ 2023
Sábado 29 de Abril
7:00 pm
Aporte Cultural $30.000 – Reservas http://bit.ly/3G6ST3I
Concierto presentado con el gentil patrocinio de LUZMILA LÓPEZ
Calle 54 45-11 (El Palo con Caracas)
Parqueo 12 horas x $8.000, desde las 6pm con AutoParking (al frente de nuestra sede).
###
As part of the celebrations of *International Jazz Day 2023*, and the third version of the Néstor Gómez Jazz Festival
The Jazz Club Presents:
GRAND CONCERT INTERNATIONAL JAZZ DAY 2023
Saturday April 29
7:00 p.m.
Cultural Contribution $30,000 – Reservations http://bit.ly/3G6ST3I
Concert presented with the kind sponsorship of LUZMILA LÓPEZ
Calle 54 45-11 (El Palo with Caracas)
Parking 12 hours x $8,000, from 6pm with AutoParking (in front of our headquarters).
🇺🇸...
𝐷𝑖𝑠𝑐𝑜𝑣𝑒𝑟 𝑡ℎ𝑒 𝐽𝑎𝑧𝑧 ℎ𝑜𝑢𝑠𝑒 𝑖𝑛 𝑀𝑒𝑑𝑒𝑙𝑙𝑖𝑛
International Jazz Day Concert / 7:00pm
Organizer(s)
El Club del Jazz
Contact Person: Christian Salgado
Tel: + 57 3002037909
Email: [email protected]
More Celebrations in Colombia for International Jazz Day 2023