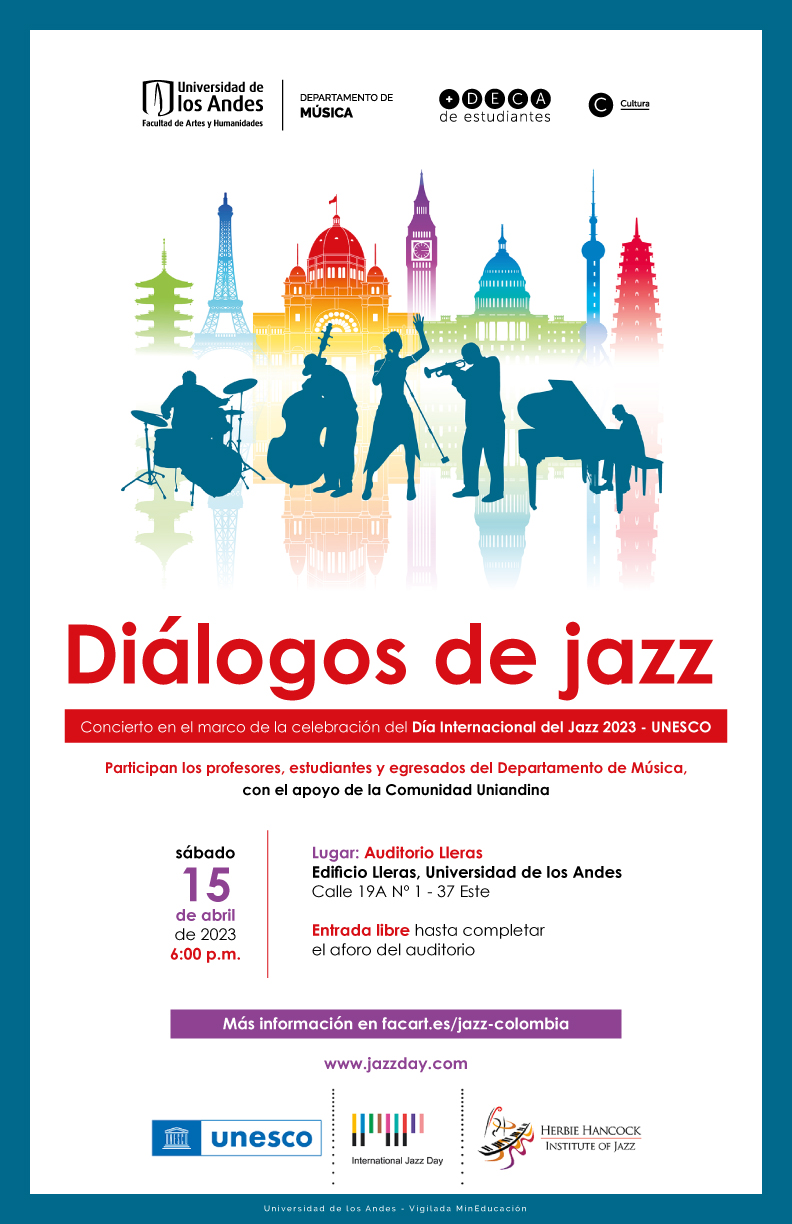 Diálogos de Jazz
Concierto en el marco de la celebración del Día Internacional del Jazz 2023 – UNESCO, sábado 15 de abril a las 6:00 p.m. Auditorio Lleras, Universidad de los Andes.
Estudiantes y profesores de la Universidad de los Andes se unen para interpretar canciones colombianas de jazz e intercambiar momentos de improvisación y ritmo desde sus diferentes perspectivas. Durante este encuentro propone un diálogo respetuoso entre dos generaciones con un objetivo común: la integración a través de la música.
Participan los profesores, estudiantes y egresados del Departamento de Música, con el apoyo de la 'Comunidad Uniandina'.
###
jazz dialogues
Concert in the framework of the celebration of International Jazz Day 2023 – UNESCO, Saturday, April 15 at 6:00 p.m. Lleras Auditorium, University of the Andes.
Students and professors from the Universidad de los Andes come together to interpret Colombian jazz songs and exchange moments of improvisation and rhythm from their different perspectives. During this meeting, he proposes a respectful dialogue between two generations with a common goal: integration through music.
Teachers, students and graduates of the Department of Music participate, with the support of the 'Uniandina Community'.
Organizer(s)
Universidad de los Andes
Contact Person: Óscar Acevedo
Tel: +
Email: [email protected]
Auditorio Lleras, Universidad de los Andes
Calle 19A # 1 – 17 Este
Bogotá, Cundinamarca
More Celebrations in Colombia for International Jazz Day 2023