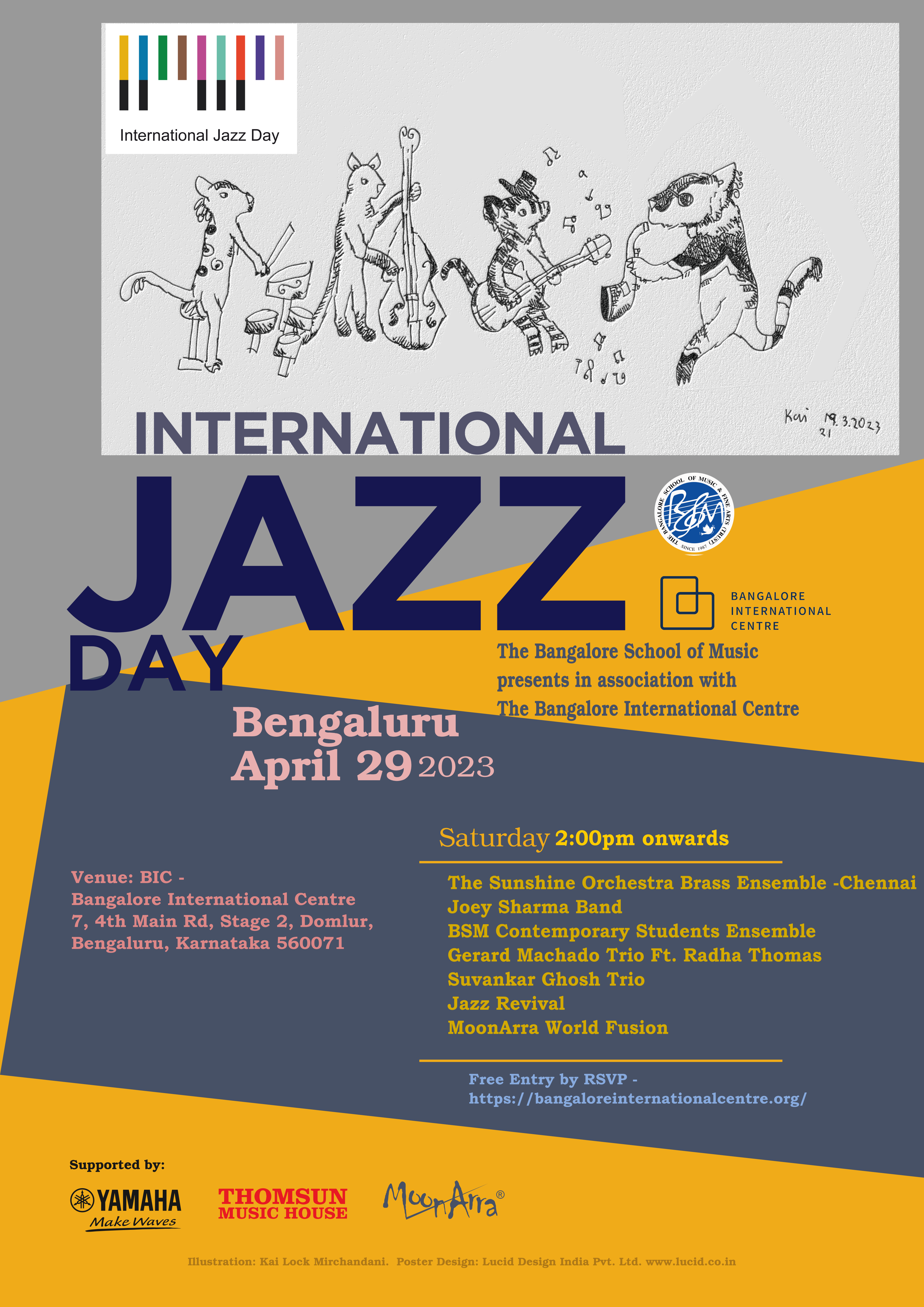 International Jazz Day Bengaluru
04/29
14:00
International Jazz Day Bengaluru
29th April 2p.m. onwards
Seven jazz bands, ensembles are taking part this year's International Jazz Day Bengaluru on Saturday April 29 2023 starting at 14:00hrs at the fabulous Bangalore International Centre!
1. The Sunshine Orchestra Brass Ensemble – Chennai
2. Joey Sharma Band
3. BSM Contemporary Students Ensemble
4. Gerard Machado Trio Ft. Radha Thomas
5. Suvankar Ghosh Trio
6. Jazz Revival
7. MoonArra World Fusion
Band Bios
1. MoonArra World Fusion Ensemble
Founded by Bangalore based guitarist and composer Jagadeesh Ramanujam Mudambi & Vocalist songwriter Madhuri Jagadeesh, MoonArra meaning "three streams" was formed in 2006 as a fusion of the interaction and collective influences of Indian Classical, Jazz and World Music Influences of its core members. MoonArra's mission has always been to collaborate and connect with musicians and audiences worldwide, creating meaningful partnerships, bringing the message of peace and harmony, goodwill and tolerance in today's environment.
MoonArra has performed internationally in significant jazz festivals and concerts overseas across Asia, Arica and Europe. MoonArra is currently working on its collaborative album titled "Maanush" and has already released its first single – its own version of American singer-songwriter Sara K's classic "If I Could Sing Your Blues" online on all streaming platforms. MoonArra is also working on a production titled "Music of The Moonflowers – An Indian Opera".
MoonArra has had 9 international overseas concert performance tours since 2009.
• Akshada Krishnan - Piano
• Jataveda Banerjee - Vocals
• Haripriya Narasimhan - Bass
• Mythili Anantharaman - Vocals
• Madhuri Jagadeesh – Vocals,
• Jagadeesh M.R – Guitars (Nylon & Steel Electric)
• Joshua Lance – Bass
• Rohit P.S – Drums
• Amit Mirchandani - Drums
2. BSM Contemporary Students' Ensemble
Led by Capt Ravinder Samuel of BSM on saxophone and clarinet and Carlisle Turner HoD Drums dept, with an ensemble of students playing
• 6 saxophones,
• 1 trumpet,
• drums,
• Piano
• bass guitar
• guitar
3. Gerard Machado Trio Ft. Radha Thomas - 9343865747 - Lineup
Gerard Machado- Guitar
Radha Thomas - Vocals
Jeoraj Stanly George- Drums
Joshua Costa- Piano
Bio
Masters in their own right, the Trio known for delivering the best to Jazz enthusiasts and connoisseurs of music. Their music is a blend of Bebop jazz, blues, Funk and Latin elements.The band comprises of Gerard Machado on Guitar, Jeoraj Stanly George on Drums & Joshua Costa on Keyboards. Gerard Machado based in Bangalore is one of India's most accomplished Jazz guitarists and has represented India at several international Jazz festivals. Besides being a virtuoso Jazz guitarist, he is also a prolific composer & music producer with original music albums to his credit.
Radha Thomas
She has had several distinct careers: first and foremost as a jazz musician, composer, arranger and band leader (she as been empanelled as the jazz ambassador for India by the ICCR (Indian Council For Cultural Affairs); then as a published author, contributing journalist and newspaper and magazine editor; she was also an Executive VP in charge of business development at Explocity.com. Her latest venture is a podcast launched in 2022, to promote the cause of the indie dog.
Radha Thomas was born in Tamil Nadu in India, grew up in Mumbai and Delhi and then left for the USA to pursue her dream of becoming a jazz singer. Although jazz was (and continues to be) her driving passion, it never provided her a lucrative career, one that allowed her to focus on music alone.
She spent 20 years in New York, holding a variety of day-jobs in the travel and publishing industries, while singing in clubs at night, performing and recording in the city.
She returned to India and formed the band UNK: the Radha Thomas Ensemble, while working for a media company. The band travelled India extensively and performed as much as the genre permitted.
4. Suvankar Ghosh Trio -
Lineup
Suvankar Ghosh- Guitar
Joshua Costa- Piano
Saurav Ghosh- Drums
Bio
Saurav, Joshua and Suvankar will be performing a short instrumental set of jazz standards. The trio will improvise over a few Bebop, fusion and funk tunes.
5. The Sunshine Orchestra Brass Ensemble
The Sunshine Orchestra Brass Ensemble (Chennai) is the flagship project of the A R Rahman Foundation and is
an Indian native symphony orchestra in the making. Socially and economically
disadvantaged students with an aptitude for music are provided free musical training.
Some of our initiatives include:
- BRASS ENSEMBLE, 2016
- GIRLS OF BRASS, 2017
- OUTREACH PROGRAM, 2018
- NAGALAND INITIATIVE, 2019
- BRASS BUDDIES, 2020
We will have the Senior group perform along with drummer and Synths. The performers names are here:
Trumpets:
Angelin
Karthcik
Mohammed
Horns:
Nandhu
Lokesh
Pavithra
Ojesh
Trombones:
Vikki
Rameethha
Tuba:
Johnson
Synths:
Chintan Trivedi
Drums:
Rahul Vanamali
6. Jazz Revival
The Jazz Revival Band is a Jazz, Retro and Blues band started in 2000 by Dr. Thomas Chandy and his musicians whose foot-tapping music has enlivened the Bangalore scene for the last 17 years.
The musicians play an assortment of instruments, from Saxophone, drums, bass, trumpet and of course vocals to bring their unique sound to the stage
7. Joey Sharma Band
The Joey Sharma Band
Gypsy jazz or 'jazz manouche' is a style of swing music that emerged in the 1930s in France. Its inception is attributed to jazz pioneer and guitar legend Django Reinhardt along with French swing violinist Stéphane Grappelli.
The Joey Sharma Band is a gypsy jazz trio based in Bangalore, taking forward Django's approach to jazz. Their driving acoustic sound combines virtuostic skill, joyous up-tempo swing and slow burning ballads into an immersive experience like no other.
JOEY SHARMA (guitar) hails from Nagaland and has made a mark on the Bangalore music circuit by winning The All India Fingerstyle Competition 2016. He is also part of the band Django Twins which has played all over the country in the past four years.
SAMMY DAVID (guitar) has been active on the Bangalore music scene for some time, performing guitar duties for bands like Blues Before Sunrise and Polly Wants a Cracker.
HARIPRIYA NARASIMHAN (bass) started her journey in music with vocal and violin lessons. Several years later she chanced upon the electric bass, and there was no looking back. She has played with various groups like MoonArra, The Radha Thomas Ensemble, RiOT, Bangalore Broadway Company and Aman Mahajan Trio, pushing her bass playing boundaries and exploring the musical spectrum. Jazz fascinates her with its intellectual and emotional depth, coupled with its freedom of expression.
Organizer(s)
The Bangalore School of Music
Contact Person: Jagadeesh Ramanujam Mudambi
Tel: + 91 9844245577
Email: [email protected]
More Celebrations in India for International Jazz Day 2023