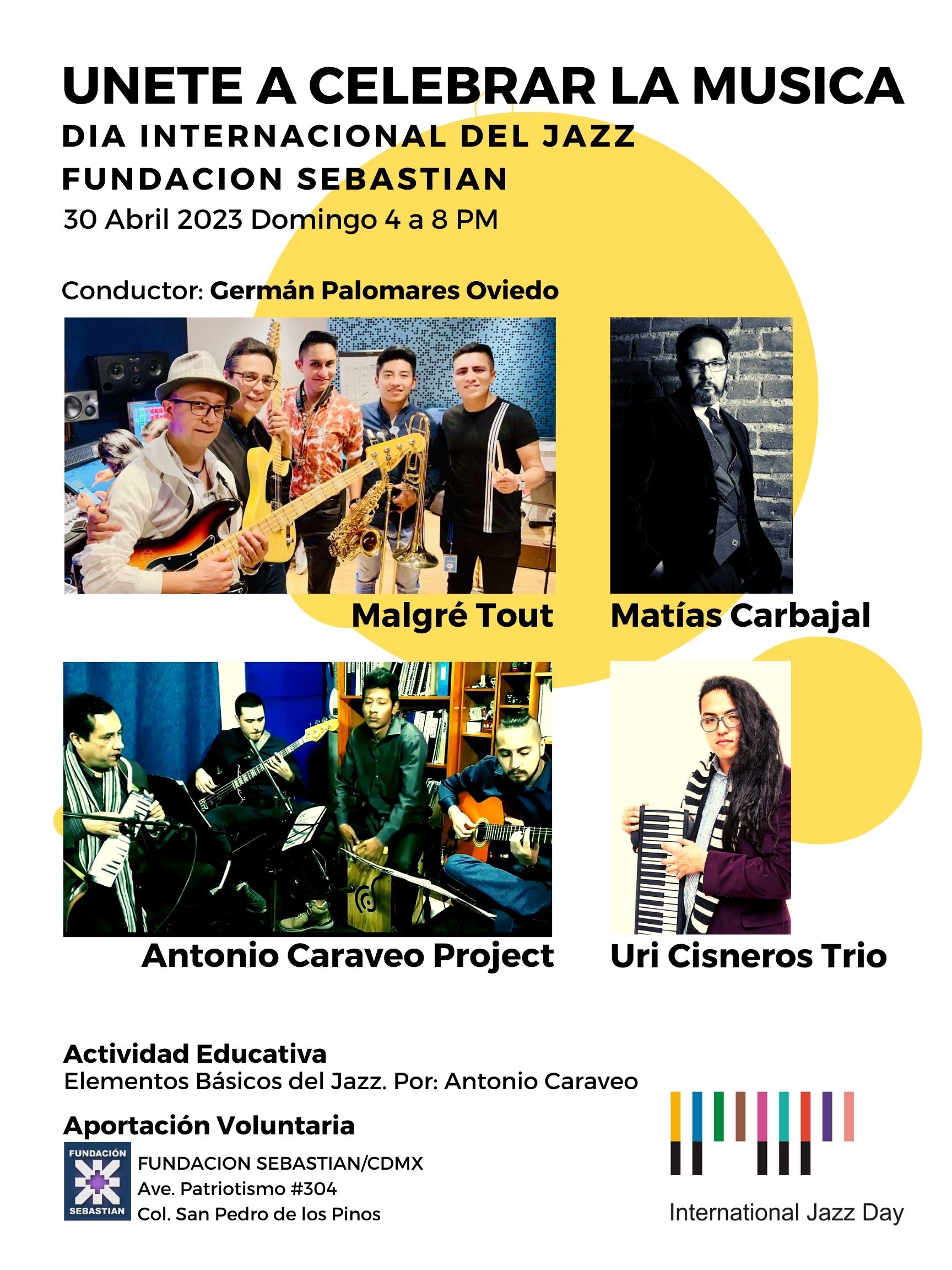 DIA INTERNACIONAL DEL JAZZ/FUNDACION SEBASTIAN CDMX
04/30
11:30
EVENT STARTS AT 4 pm
---------------------
Domingo 30 de Abril 2023 de 4 pm a 8 pm
Conductor: Germán Palomares Ovied
16:00 hrs Acceso
16:30 hrs Inicio Actividad Educativa "Elementos Básicos del Jazz". Imparte con Antonio Caraveo.
Entender el glosario y estructura básica del jazz a través del análisis de la pieza "Tenor Madness".
17 hrs Inicio del Concierto
CONCIERTO
1. Uri Cisneros Trio
2. Malgré Tout
(Director-Rubén Muñoz, con académicos del Conservatorio Nacional de México)
3. Antonio Caraveo Project
Presentando su quinto repertorio dedicado a las MUJERES
(Angel Jungla-Cajón, Jordan Sanchez-Guitarra, André Izquierdo-Bajo y Antonio Caraveo-Composición y Melódica)
4..Matías Carbajal
20 hrs Fin del Evento
ELENCO
Uri Cisneros
Pianista, compositor, arreglista, director de la NMI Nig Band. Ha participado con Louise Phelan, Tom Kessler, Nathalie Braux, Niels Klein, Wen Lei, Miguel Rodríguez ¨Chuck¨, Benjamín García, Miguel Gordillo y
Andrés Gallegos.
Cuenta con 3 producciones discográficas:
Liberación (2017) Monólogos (2019) y Uriverse (2020)
https://uricisnerosjazz.com
Malgré Tout
Grupo formado por académicos del Conservatorio Nacional de México.
Rubén Muñoz-Guitarra, Edoardo Ceballos-Batería, Fer González-Sax, Cain Gutiérrez-Trombone y Esteban Bazán-Bajo
https://www.facebook.com/profile.php?id=100083191545964
Antonio Caraveo Project
Presentarán su nuevo material original dedicado a las MUJERES
Jordan Sánchez-Guitarra-André izquierdo-Bajo, Angel Jungla-Cajón y Antonio Caraveo-Melódica y composición
Cuentan con 2 producciones discogŕaficas: Paisajes Mexicanos y Sempre Brasil
http://antoniocaraveo.com/jazz
Matías Carbajal
Músico y compositor autodidacta, multi instrumentista artista interdisciplinario y promotor cultural.
Ha incursionado en la música mexicana de fusión, jazz fusión, cantautor, electrónica y world.
Cuenta con diversas producciones discogŕaficas:
Cebiche de Sirenas Vol 1 y 2, DayDream, Mirando al Cielo y varios más.
https://www.matiascarbajalmusic.com/
###
EVENT STARTS AT 4 pm
---------------------
Sunday April 30, 2023 from 4 pm to 8 pm
Conductor: German Palomares Ovied
16:00 hrs Access
16:30 hrs Beginning of the Educational Activity "Basic Elements of Jazz". He teaches with Antonio Caraveo.
Understand the glossary and basic structure of jazz through the analysis of the piece "Tenor Madness".
17 hrs Start of the Concert
CONCERT
1. Uri Cisneros Trio
2. Malgre Tout
(Director-Rubén Muñoz, with academics from the National Conservatory of Mexico)
3. Antonio Caraveo Project
Presenting her fifth repertoire dedicated to WOMEN
(Angel Jungla-Cajón, Jordan Sanchez-Guitar, André Izquierdo-Bass and Antonio Caraveo-Composition and Melodica)
4..Matias Carbajal
20 hrs End of the Event
CAST
Uri Cisneros
Pianist, composer, arranger, director of the NMI Nig Band. He has participated with Louise Phelan, Tom Kessler, Nathalie Braux, Niels Klein, Wen Lei, Miguel Rodríguez ¨Chuck¨, Benjamín García, Miguel Gordillo and
Andres Gallegos.
He has 3 record productions:
Liberation (2017) Monologues (2019) and Uriverse (2020)
https://uricisnerosjazz.com
Malgré Tout
Group formed by academics from the National Conservatory of Mexico.
Rubén Muñoz-Guitar, Edoardo Ceballos-Drums, Fer González-Sax, Cain Gutiérrez-Trombone and Esteban Bazán-Bass
https://www.facebook.com/profile.php?id=100083191545964
Antonio Caraveo Project
They will present their new original material dedicated to WOMEN
Jordan Sánchez-Guitar-André left-Bass, Angel Jungla-Cajón and Antonio Caraveo-Melodica and composition
They have 2 record productions: Paisajes Mexicanos and Semper Brasil
http://antoniocaraveo.com/jazz
Matias Carbajal
Self-taught musician and composer, multi-instrumentalist, interdisciplinary artist and cultural promoter.
He has dabbled in Mexican fusion, jazz fusion, singer-songwriter, electronic, and world music.
He has several record productions:
Mermaid Cebiche Vol 1 and 2, DayDream, Mirando al Cielo and several more.
https://www.matiascarbajalmusic.com/
Organizer(s)
Antonio Caraveo Project
Contact Person: ANTONIO CARAVEO
Tel: +
Email: [email protected]
FUNDACION SEBASTIAN
Avenida Patriotismo 304
San Pedro de los Pinos, Alcadía Benito Juárez
México City, CDMX 03800
More Celebrations in Mexico for International Jazz Day 2023