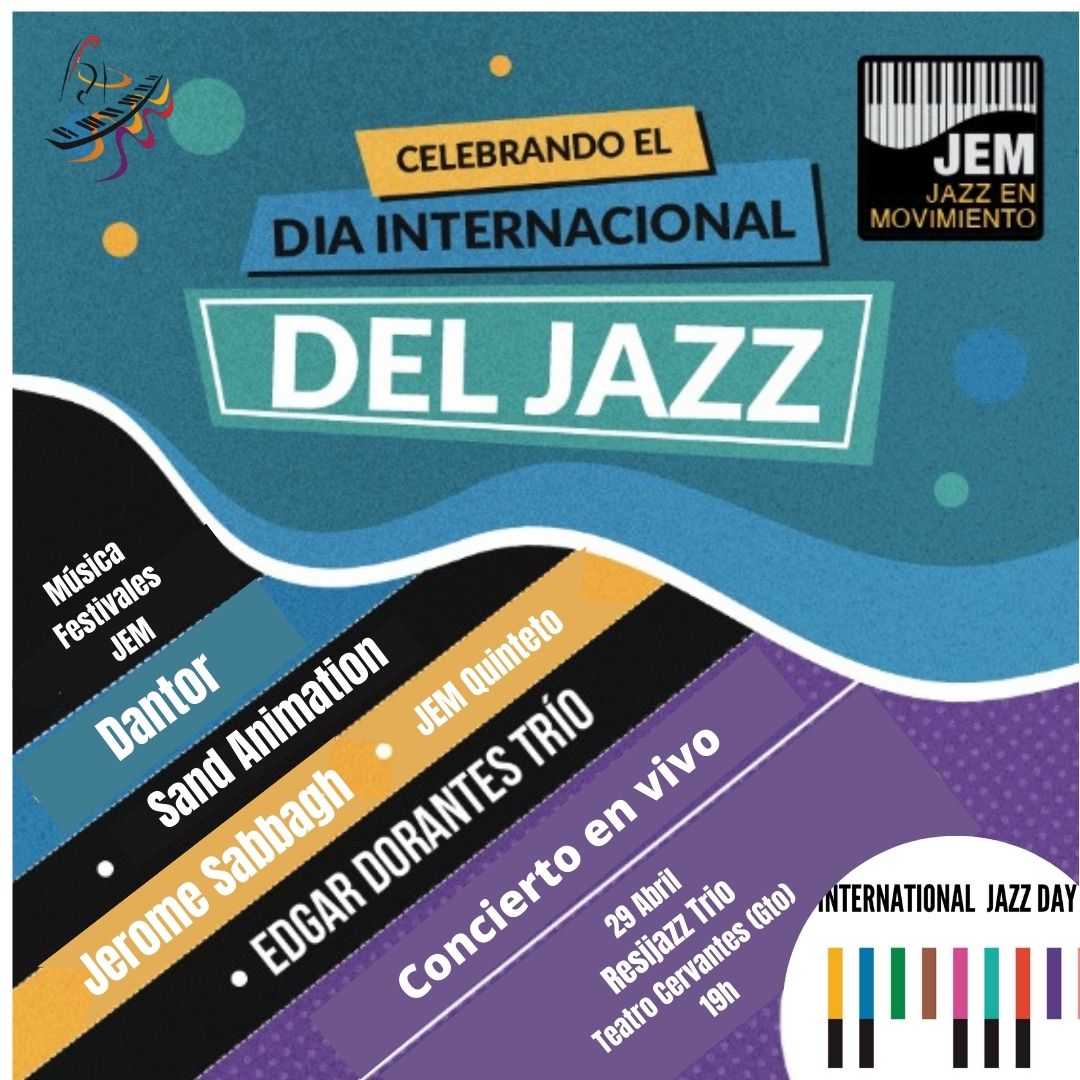 Iniciaremos el JAZZDAY con un concierto en vivo en el Teatro Cervantes, el Sábado 29 de Abril a cargo de RESIJAZZ TRÍO a las 19h donde la Entrada será libre.
Y el domingo 30 de abril estaremos compartiendo de manera virtual.
En IG, YT y FB de Jazz en Movimiento a lo largo del día, no te pierdas de:
DANTOR increíble banda con una personalidad única, liderada por Daniel Torres.
SAND ANIMATION disfruta del performance del dueto de Paulina Magadielle y el increíble pianista Mario Patrón
JEROME SABBAGH Saxofonista francés acompañado Gabriel Puentes y Luri Molina.
JEM 5eto El grupo anfitrión
EDGAR DORANTES TRÍO pianista originario de Xalapa, Veracruz, acompañado de los brillantes y talentosos hermanos Emiliano y Vladimir Coronel.
###
We will start JAZZDAY with a live concert at the Teatro Cervantes, on Saturday, April 29 by RESIJAZZ TRÍO at 7:00 p.m. where Admission will be free.
And on Sunday April 30th we will be sharing virtually.
On IG, YT and FB of Jazz on the Move throughout the day, don't miss:
DANTOR incredible band with a unique personality, led by Daniel Torres.
SAND ANIMATION enjoys the performance of the duet of Paulina Magadielle and the incredible pianist Mario Patrón
JEROME SABBAGH French saxophonist accompanied by Gabriel Puentes and Luri Molina.
JEM 5eto The host group
EDGAR DORANTES TRÍO pianist originally from Xalapa, Veracruz, accompanied by the brilliant and talented brothers Emiliano and Vladimir Coronel.
Organizer(s)
Jazz en Movimiento
Contact Person: Dulce Resillas
Tel: + 55 22514321
Email: [email protected]
Teatro Cervantes
Plaza Allende s/n Centro
Plaza Allende s/n Centro
Guanajuato, Guanajuato 03600
More Celebrations in Mexico for International Jazz Day 2023