2019 All-Star Global Concert
The 2019 All-Star Global Concert took place in Melbourne, Australia's Hamer Hall at the renowned Arts Centre Melbourne. Watch exclusive clips from the concert here.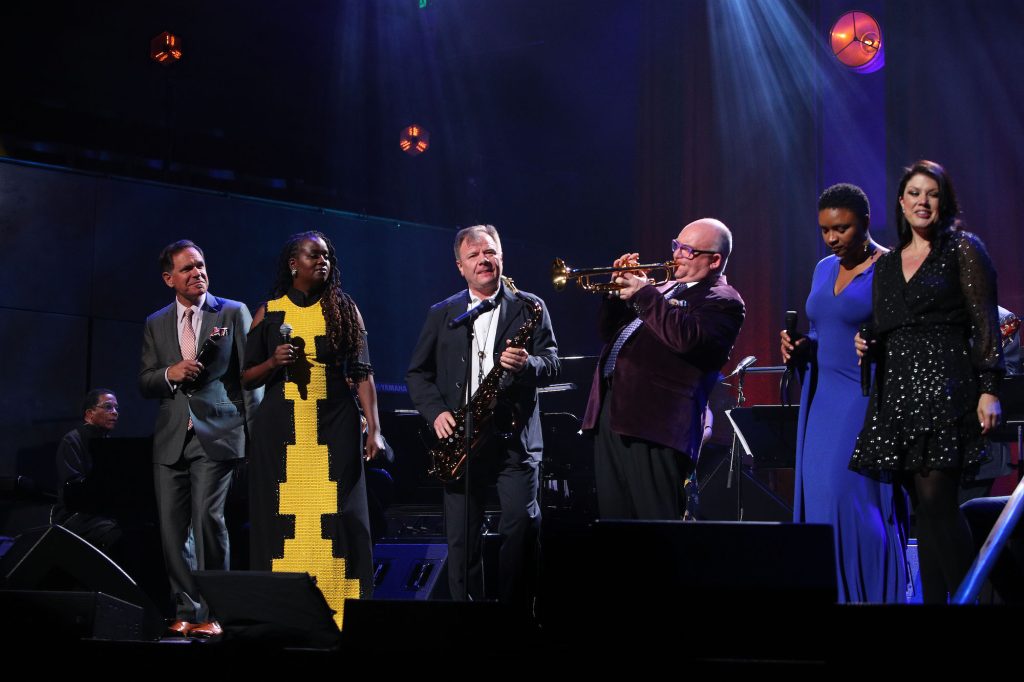 As the centerpiece of International Jazz Day's global programming, the 2019 Global Concert included a litany of extraordinary performances, from the captivating show opener by trumpeter James Morrison and didgeridooist Will Barton, to a rousing gospel-infused medley by rising star vocalist Lizz Wright, to swinging numbers featuring jazz icons Kurt Elling and Jane Monheit alongside some of Australia's finest jazz musicians. The evening concluded with a moving rendition of John Lennon's anthem "Imagine" led by International Jazz Day Co-Chair and 2019 co-artistic director Herbie Hancock.
Heading the lineup alongside Hancock was acclaimed trumpeter and fellow co-artistic director James Morrison (Australia) with John Beasley (USA) serving as the evening's musical director. The concert featured an international roster of artists from more than a dozen countries, including Cieavash Arian (Iran), William Barton (Australia), Brian Blade (USA), A Bu (China), Igor Butman (Russian Federation), Theo Croker (USA), Joey DeFrancesco (USA), Eli Degibri (Israel), Kurt Elling (USA), James Genus (USA), Paul Grabowsky (Australia), Antonio Hart (USA), Matthew Jodrell (Australia), Aditya Kalyanpur (India), Ledisi (USA), Jane Monheit (USA), James Muller (Australia), Eijiro Nakagawa (Japan), Mark Nightingale (United Kingdom), Jeff Parker (USA), Chico Pinheiro (Brazil), Tineke Postma (Netherlands), Eric Reed (USA), Antonio Sánchez (Mexico), Somi (USA), Ben Williams (USA), Lizz Wright (USA) and Tarek Yamani (Lebanon).
Look Who Was Part of The International Jazz Day 2019 All-Star Global Concert