2014 All-Star Global Concert
In 2014, the beautiful Osaka Castle Park in Osaka (Japan) hosted more than 30 world-renowned performers and an audience of thousands in celebration of the third annual International Jazz Day. Opened in 1931, the park features hundreds of Japan's famous cherry trees and surrounds Osaka Castle, a spectacular example of the Azuchi-Momoyama period. The castle was originally commissioned by General Toyotomi Hideyoshi in 1583. It served as a symbol of Toyotomi's power as he continued the military campaign that would effectively unify Japan, ending nearly 200 years of military conflict and socio-political unrest. Damaged, destroyed, and restored repeatedly through the centuries, the castle has come to represent the elegance and indomitable spirit of both the city of Osaka and Japan.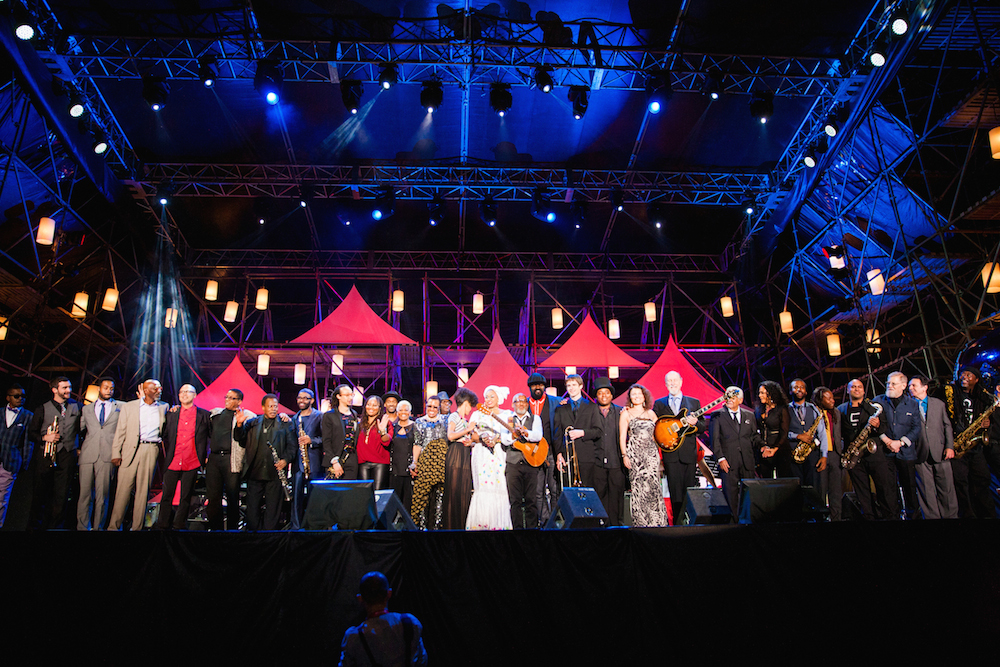 The 2014 All-Star Global Concert featured internationally renowned artists including pianists Toshiko Akiyoshi, Kris Bowers, John Beasley, Herbie Hancock and Makoto Ozone; vocalists Dee Dee Bridgewater, Jonathan Butler, Roberta Gambarini, Lalah Hathaway, Gregory Porter, Oumou Sangaré and Dionne Warwick; trumpeters Theo Croker, Roy Hargrove, Claudio Roditi and Terumasa Hino; bassists James Genus, Marcus Miller and Esperanza Spalding; drummers Terri Lyne Carrington, T.S.Monk, Shuichi Hidano and the Taiko Masters; percussionists Pete Escovedo and Sheila E.; saxophonists Kenny Garrett, Courtney Pine, Troy Roberts, Wayne Shorter and Lew Tabackin; trombonist Steve Turre; and guitarists Chris Thomas King, Earl Klugh, John Scofield and Joe Louis Walker.
Look Who Was Part of The International Jazz Day 2014 All-Star Global Concert