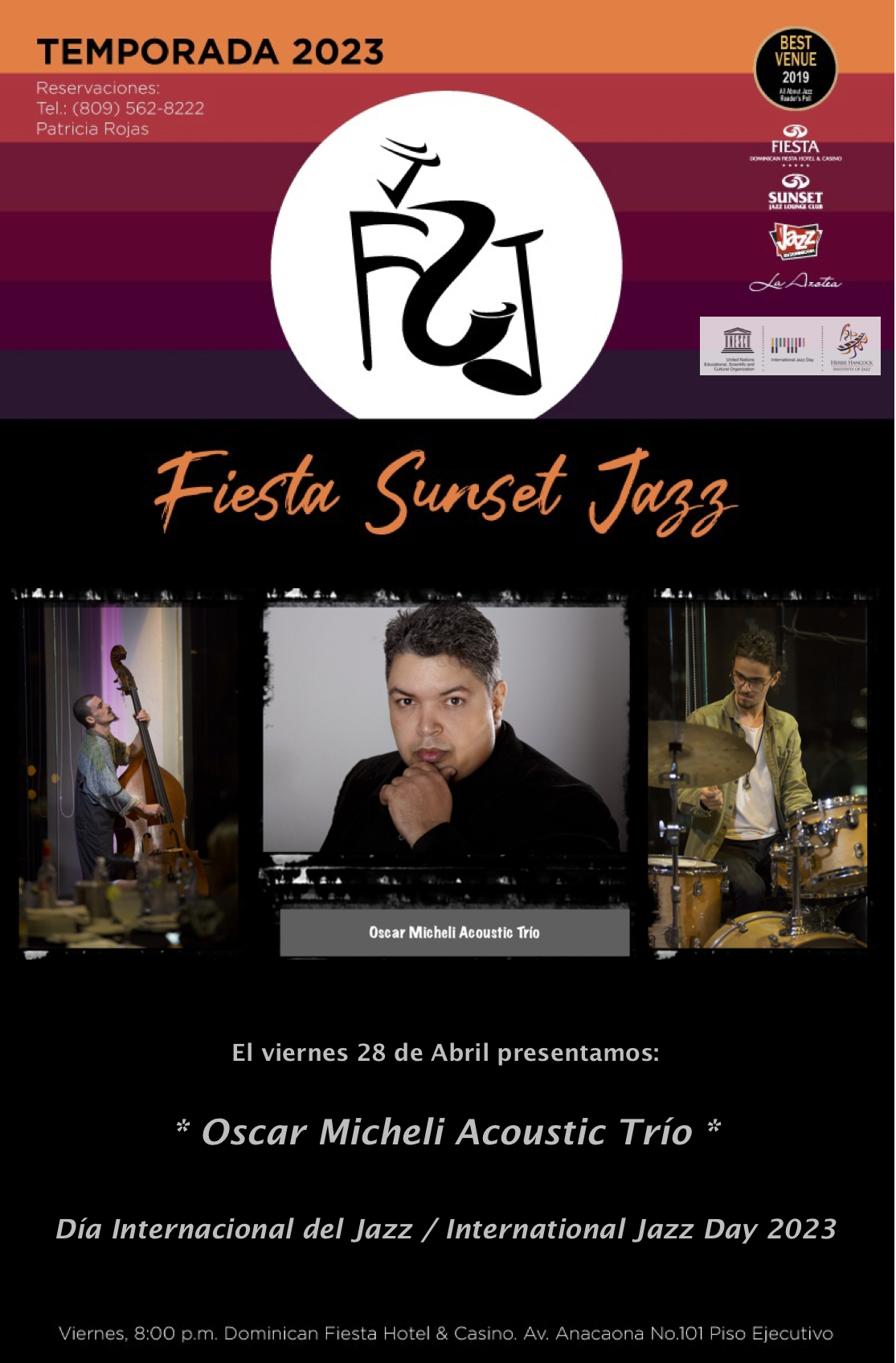 Fiesta Sunset Jazz presenta al Oscar Micheli Acoustic Trio para su Celebración oficial del Fiesta Sunset Jazz del Día Internacional del Jazz 2023
Jazz en Dominicana y el Fiesta Sunset Jazz celebraran, por décimo segundo año consecutivo el Día Internacional del Jazz con un concierto de primerísima a cargo del trío del reconocido pianista, compositor, arreglista y educador Oscar Micheli. En lo que será una gran noche, una noche de festejo a ritmo de Jazz, el Oscar Micheli Acoustic Trio presentará un muy especial concierto para con él celebrar la efeméride mundial del jazz!! Bajo la conceptualización de Micheli y acompañado de Sebastian Mueses en contrabajo y Gonzalo Frómeta en batería, el trío hará entrega de un balanceado repertorio que incluye composiciones originales de Oscar, así como reconocidos estándares con originales arreglos de parte de los tres!! Una noche llena de fusiones de variados estilos y sub-géneros del Jazz cuyo resultante será una mezcla de sonidos elegantes, sofisticados y de alta calidad.
Una noche sin desperdicio - para en ella apoyar a nuestros talentos y sentirse orgullosos de ellos! A disfrutar en grande de esta especial propuesta, de este especial concierto, en esta especial noche, que será inolvidable - y…. que - NO SE PUEDEN PERDER!!!
###
Jazz en Dominicana and Fiesta Sunset Jazz will celebrate International Jazz Day for the twelfth consecutive year with a top-notch concert by the trio of renowned pianist, composer, arranger and educator Oscar Micheli. In what will be a great night, a night of celebration to the genre of Jazz, the Oscar Micheli Acoustic Trio will present a very special concert in order to celebrate the this year's occasion!! Under the conceptualization of Micheli, and accompanied by Sebastian Mueses on double bass and Gonzalo Frómeta on drums, the trio will deliver a balanced repertoire that includes original compositions by Oscar, as well as recognized standards with original arrangements by all three!! Elegant, sophisticated and high quality!
Organizer(s)
Jazz en Dominicana
Contact Person: Fernando Rodriguez De Mondesert
Tel: +1 829-586-9177
Email: [email protected]
More Celebrations in Dominican Republic for International Jazz Day 2023