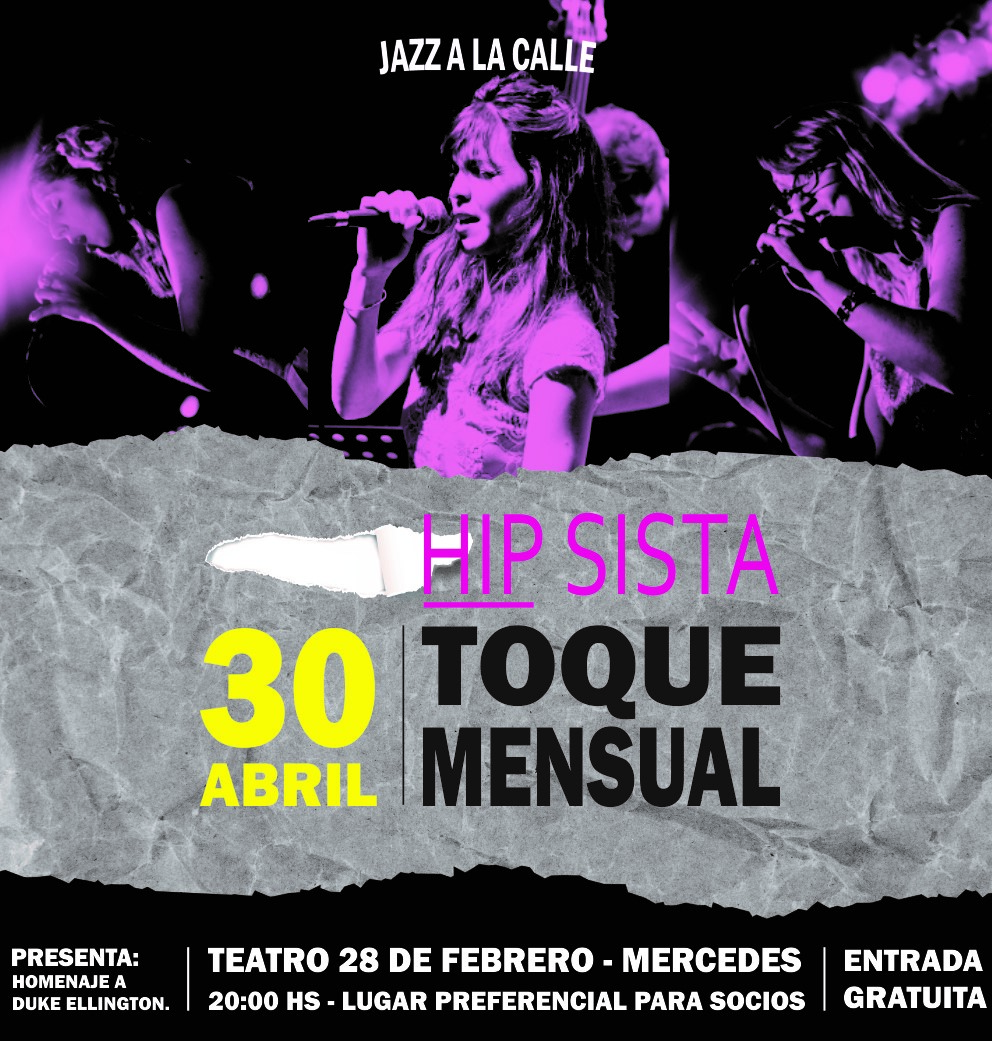 Jazz a la Calle presenta: HIP SISTA
Un espectáculo homenaje al gran pianista y compositor Duke Ellington. A través de una selección de sus grandes éxitos, se propone plasmar la escena musical de la era del swing que materializa en su primer disco 'Ellingtones' (2014) y es el resultado de un intenso trabajo de investigación y adaptación de los arreglos orquestales de Ellington a trío vocal. El recorrido continuará con otro homenaje al pianista y compositor Horace Silver parte de su último material discográfico llamado "HIP SISTA meets Horace Silver" .
INTEGRANTES :
Mumi Pearson, voz
Mariana Iturri, voz
Marina Rama, voz
Iohann Gonzáles, Piano
Nazareno Ruiz, batería
Nahuel Lenardon, contrabajo
###
Jazz on the Street presents: HIP SISTA
A tribute show to the great pianist and composer Duke Ellington. Through a selection of his greatest hits, he intends to capture the musical scene of the swing era that materializes on his first album 'Ellingtones' (2014) and is the result of intense research and adaptation of the orchestral arrangements of Ellington to vocal trio. The tour will continue with another tribute to pianist and composer Horace Silver, part of his latest record material called "HIP SISTA meets Horace Silver".
MEMBERS :
Mummy Pearson, vocals
Mariana Iturri, vocals
Marina Rama, vocals
Iohann Gonzales, piano
Nazareno Ruiz, drums
Nahuel Lenardon, double bass
Organizer(s)
Jazz a la Calle
Contact Person: Juan Ignacio Mendez
Tel: + 59898325470
Email: [email protected]
Toque Mensual "Jazz a la Calle"
Teatro 28 de Febrero
28 de Febrero & esquina Wilson Ferreira Aldunate
Mercedes, Soriano
More Celebrations in Uruguay for International Jazz Day 2023