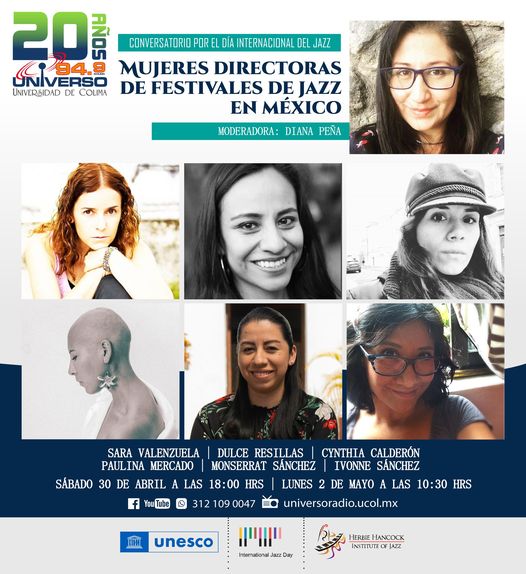 Los festivales de jazz en el mundo tienen una amplia historia, contexto e importancia para seguir promoviendo este género que es más una forma de vida, así como para fortalecer la formación de públicos.
En México existen grandes movimientos al respecto, por ello es importante dialogar con algunas de las mujeres que han decidido diseñar, planear y ejecutar grandes fiestas del jazz desde ciudades como Guadalajara, Querétaro, León Guanajuato, Estado de México y Colima.
###
Jazz festivals in the world have a long history, context and importance to continue promoting this genre, which is more of a way of life, as well as to strengthen the formation of audiences.
In Mexico there are great movements in this regard, for this reason it is important to dialogue with some of the women who have decided to design, plan and execute great jazz festivals from cities such as Guadalajara, Querétaro, León Guanajuato, the State of Mexico and Colima.
Organizer(s)
Universo 94.9
Contact Person: Diana Selene Peña Vélez
Tel: +523121228194
Email: [email protected]
Universo 94.9
Dirección General de Radio Universitaria de la Universidad de Colima
333 Avenida Universidad
Las Víboras
Colima, Colima 28040
More Celebrations in Mexico for International Jazz Day 2022