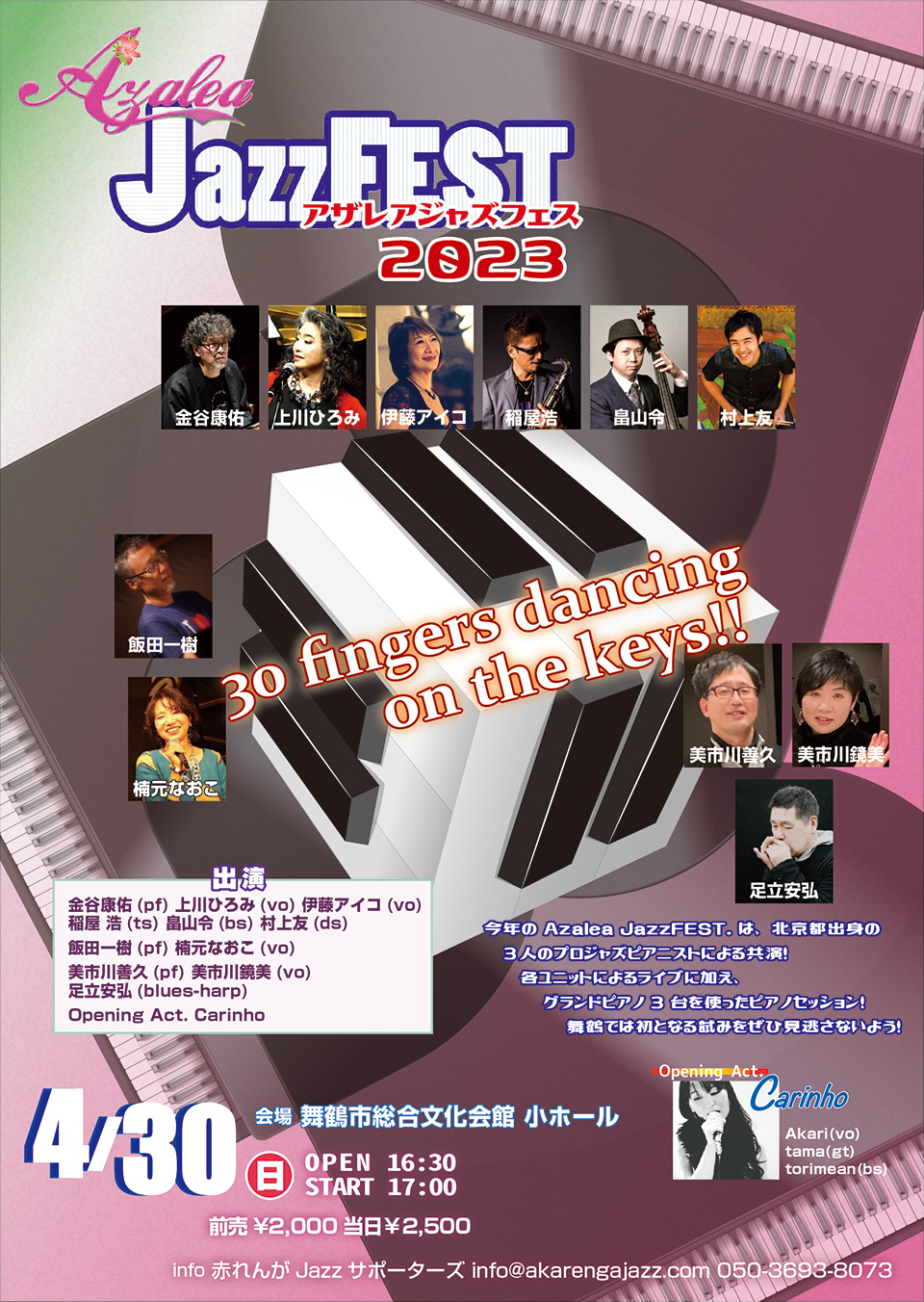 ユネスコ制定の国際ジャズデイである4/30に合わせて企画される、舞鶴の市花であるツツジ(アザレア)を冠したジャズイベント、Azalea JazzFEST.。
7回目となる2023年は、なんと3台のグランドピアノの協演!舞鶴近隣出身、在住の3名のプロジャズピアニストが、3台のピアノの上で30本の指を踊らせます。
各ピアニストのユニットによる演奏に加え、3人のピアニストによるセッションもあります。大変希少である3人のジャズピアニストの協演、どんな音が飛び出すかぜひ体験ください。
オープニングアクトはCarinhoによる、スモーキーでアンニュイな声が紡ぐボサノヴァです。
出演
・金谷康佑(Pf) 上川ひろみ(Vo) 伊藤アイコ(Vo) 稲屋浩(Ts) 畠山怜(Bs) 村上友(Ds)
・飯田一樹(Pf) 楠元なおこ(Vo)
・美市川善久(Pf) 美市川鏡美(Vo) 足立安弘(Blues-harp)
・Carinho Akari(Vo) tama(Gt) torimean(Bs)
4/30(日) OPEN16:30 START17:00
会場 舞鶴市総合文化会館 小ホール
前売¥2,000 当日¥2,500
お問い合わせ 赤れんがJazzサポーターズ [email protected]
###
Azalea JazzFEST, a jazz event with the azalea, the city flower of Maizuru, planned on April 30, the International Jazz Day established by UNESCO.
In 2023, the 7th time, there will be a collaboration of 3 grand pianos! Three professional jazz pianists from the Maizuru neighborhood will dance their 30 fingers on three pianos.
In addition to performances by each pianist's unit, there will also be a session with three pianists. Please experience what kind of sound pops out in the collaboration of three jazz pianists, which is very rare.
The opening act is bossa nova with a smoky and ennui voice by Carinho.
Appearance
・ Kosuke Kanaya (Pf) Hiromi Kamikawa (Vo) Aiko Ito (Vo) Hiroshi Inaya (Ts) Rei Hatakeyama (Bs) Tomo Murakami (Ds)
・ Kazuki Iida (Pf) Naoko Kusumoto (Vo)
・Yoshihisa Michikawa (Pf) Kagami Michikawa (Vo) Yasuhiro Adachi (Blues-harp)
・Carinho Akari (Vo) tama (Gt) Torimean (Bs)
4/30 (Sun) OPEN16:30 START17:00
Venue Maizuru City General Cultural Center Small Hall
Advance ¥2,000 Door ¥2,500
Contact Akarenga Jazz Supporters [email protected]
Organizer(s)
赤れんがJazzサポーターズ -- Azalea JazzFEST
Contact Person: Tadashi Hamamoto
Email: [email protected]
舞鶴市総合文化会館
小ホール
字浜2021番地
舞鶴市 --Maizuru, 京都府 625-0036
More Celebrations in Japan for International Jazz Day 2023