International Jazz Day 2014 expanded into the remotest corners of our planet and beyond, with Antarctica's McMurdo and Palmer Research Stations holding events, and astronauts aboard the International Space Station issuing a special video message.
Managed by the National Science Foundation, the U.S. Antarctic Program conducts research on and about Antarctica through scientific installations including McMurdo and Palmer Stations. At UNESCO's invitation, staff at McMurdo produced a video tribute to International Jazz Day featuring a performance of Jerome Kern's famous composition "The Way You Look Tonight." Nearly 2,400 miles away, musically inclined scientists at Palmer entertained their colleagues with a jam session featuring Paul Desmond's "Take Five."
At another extreme, orbiting over 200 miles above the earth's surface, the flight crew of the International Space Station's Expedition 39 created its own Jazz Day observance. Taking a break from their busy schedule of experiments and spacecraft maintenance, Commander Koichi Wakata of Saitama, Japan and First Flight Engineer Rick Mastracchio of Waterbury, Connecticut broadcast a message of peace and goodwill to the evening concert audience in Osaka and the world.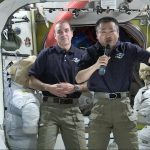 Floating weightlessly among space suits, zero-gravity science experiments and other gear, the astronauts embodied just how universal the message of Jazz Day truly is. Watch the video here.