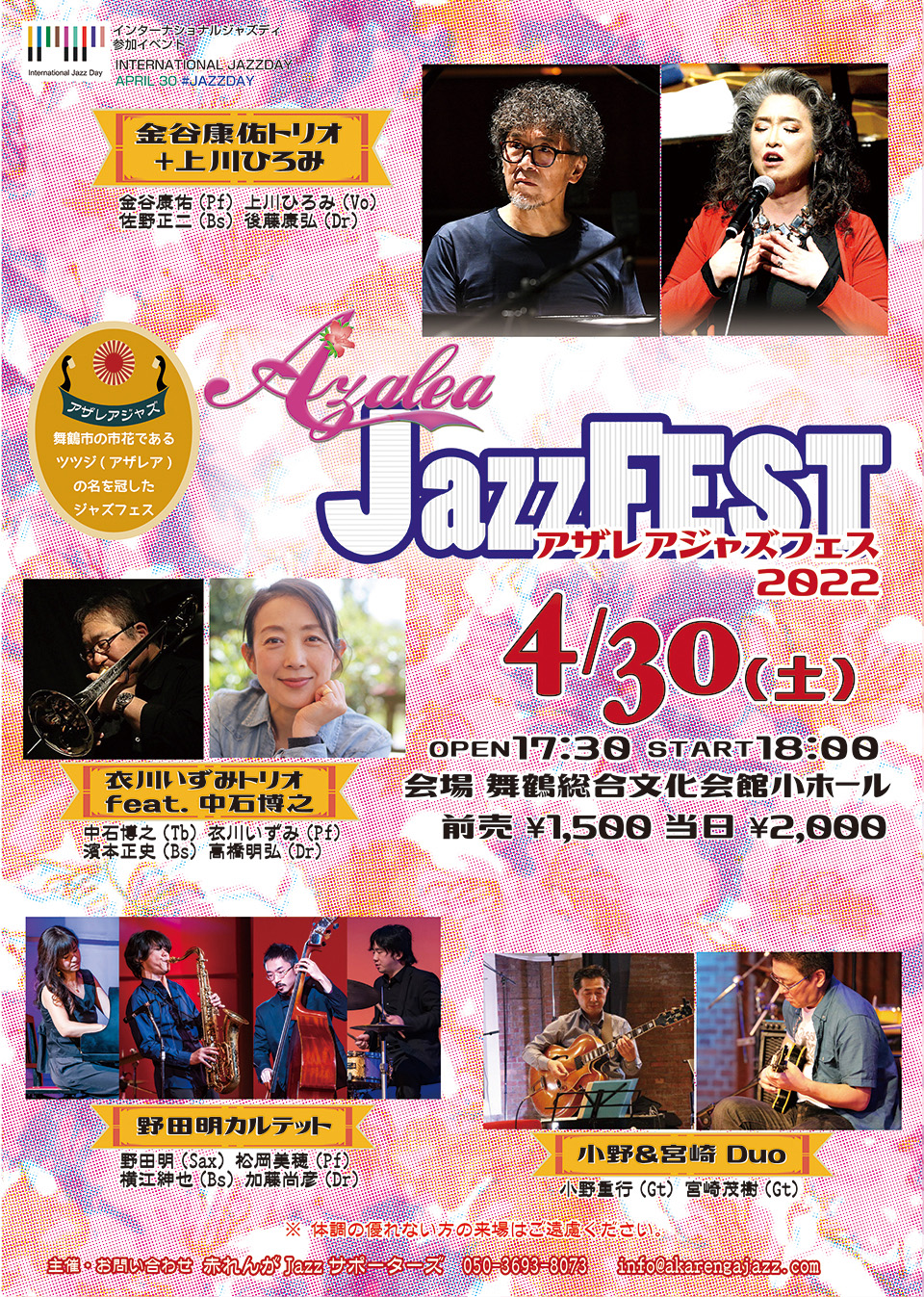 舞鶴の市花であるツツジ(アザレア)を冠したジャズイベントという形で、舞鶴、北近畿のミュージシャンを中心にお届けしています。
現在宮津在住の金谷康佑(p)が、地元の佐野正二(b)、後藤康弘(d)とトリオを組み、上川ひろみ(vo)をゲストに。
衣川いずみ(p)、濱本正史(b)、高橋明弘(d)のトリオが京都在住の中石博之(tb)をフィーチャリング。
野田明(Sax)、松岡美穂(p)、横江紳也(b)、加藤尚彦(d)のカルテット。
小野重行(g)、宮崎茂樹(g)のデュオにゲストを迎えて。
4組のジャズライブです。 開場17:30 開演18:00 料金 前売¥1,500 当日¥2,000
会場 舞鶴総合文化会館小ホール
###
In the form of a jazz event bearing the azalea, which is the city flower of Maizuru, we mainly deliver to musicians in Maizuru and Northern Kansai.
Kosuke Kanatani (p), who currently lives in Miyazu, has formed a trio with local Shoji Sano (b) and Yasuhiro Goto (d), with Hiromi Uekawa (vocals) as a guest.
A trio of Izumi Kinukawa (p), Masashi Hamamoto (b), and Akihiro Takahashi (d) featuring Hiroyuki Nakaishi (tb), who lives in Kyoto.
Quartet of Akira Noda (Sax), Miho Matsuoka (p), Shinya Yokoe (b), Naohiko Kato (d).
Welcoming guests to the duo of Ono Shigeyuki (g) and Miyazaki Shigeyuki (g).
4 sets of jazz live. Doors open 17:30 Start 18:00 Price Advance ¥ 1,500 Same day ¥ 2,000
Venue Maizuru Cultural Center Small Hall
Organizer(s)
赤れんがJazzサポーターズ Red Brick Jazz Supporters
Contact Person: Tadashi Hamamoto
Tel: +
Email: [email protected]
More Celebrations in Japan for International Jazz Day 2022