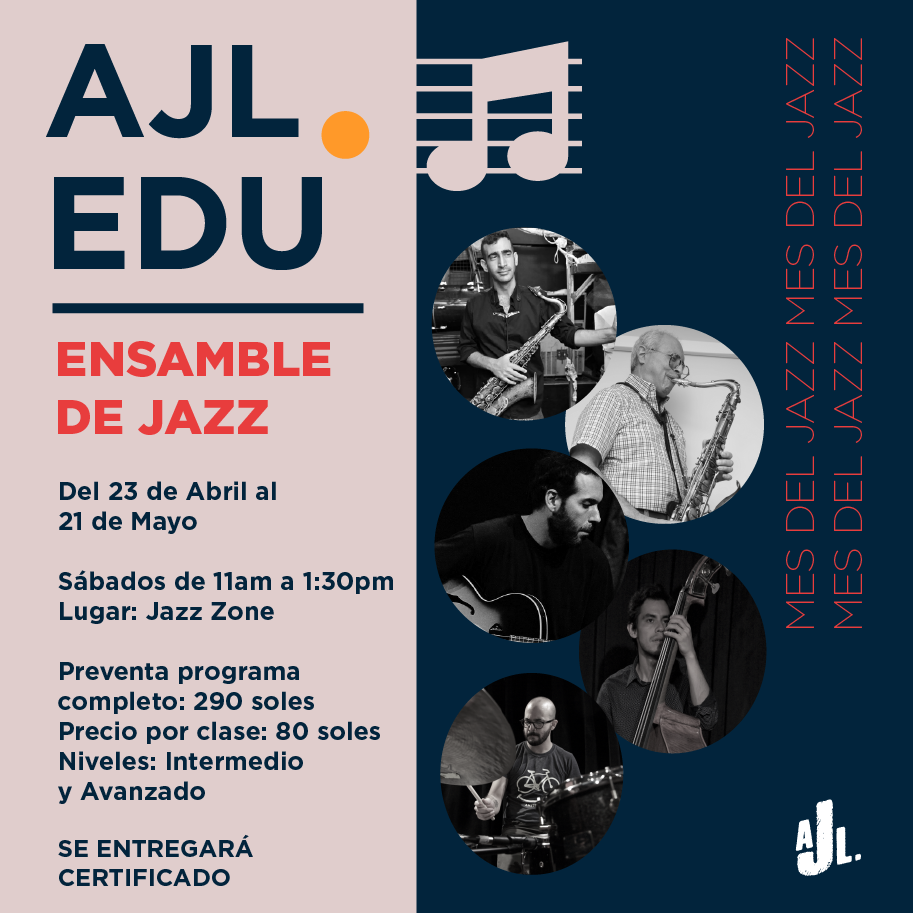 Querida comunidad del #jazzenlima les presentamos AJL.edu!
⚡️🎷🎺🎸🎻🥁⚡️
TALLER - ENSAMBLE DE JAZZ 2022
Un taller de 5 sesiones con destacados músicos de amplia trayectoria, quienes mediante ejercicios prácticos, los guiarán para explorar, comprender, asimilar y aplicar conceptos de interpretación e improvisación grupal fundamentales en el Jazz tradicional y contemporáneo.
Cada sábado, desde el 23 de abril al 21 de mayo, tendremos 5 clases presenciales en el Jazz Zone Perú ✨✨
Clase 1: Asaf Harris
Clase 2: Carlos Espinoza
Clase 3: Diego Salvador
Clase 4: Arturo Valdez
Clase 5: Ken Ychicawa
DURACIÓN: Sesiones de 2:30min. una vez x semana durante 5 semanas. Y un jam session de cierre abierto al público (opcional). En total 15 hrs.
###
Dear #jazzenlima community, we present to you AJL.edu!
⚡️🎷🎺🎸🎻🥁⚡️
WORKSHOP - JAZZ ENSEMBLE 2022
A 5-session workshop with outstanding musicians with extensive experience, who through practical exercises will guide you to explore, understand, assimilate and apply concepts of fundamental group interpretation and improvisation in traditional and contemporary Jazz.
Every Saturday, from April 23 to May 21, we will have 5 face-to-face classes at Jazz Zone Peru ✨✨
Class 1: Asaf Harris
Class 2: Carlos Espinoza
Class 3: Diego Salvador
Class 4: Arturo Valdez
Class 5: Ken Ychicawa
DURATION: Sessions of 2:30 min. once a week for 5 weeks. And a closing jam session open to the public (optional). In total 15 hours.
Organizer(s)
Asociación de Jazz de Lima
Contact Person: Asociación de Jazz de Lima
Tel: +51989458742
Email: [email protected]
Jazz Zone
Jazz Zone
Av. la Paz 656, Miraflores
Miraflores, Provincia de Lima 15074
More Celebrations in Peru for International Jazz Day 2022