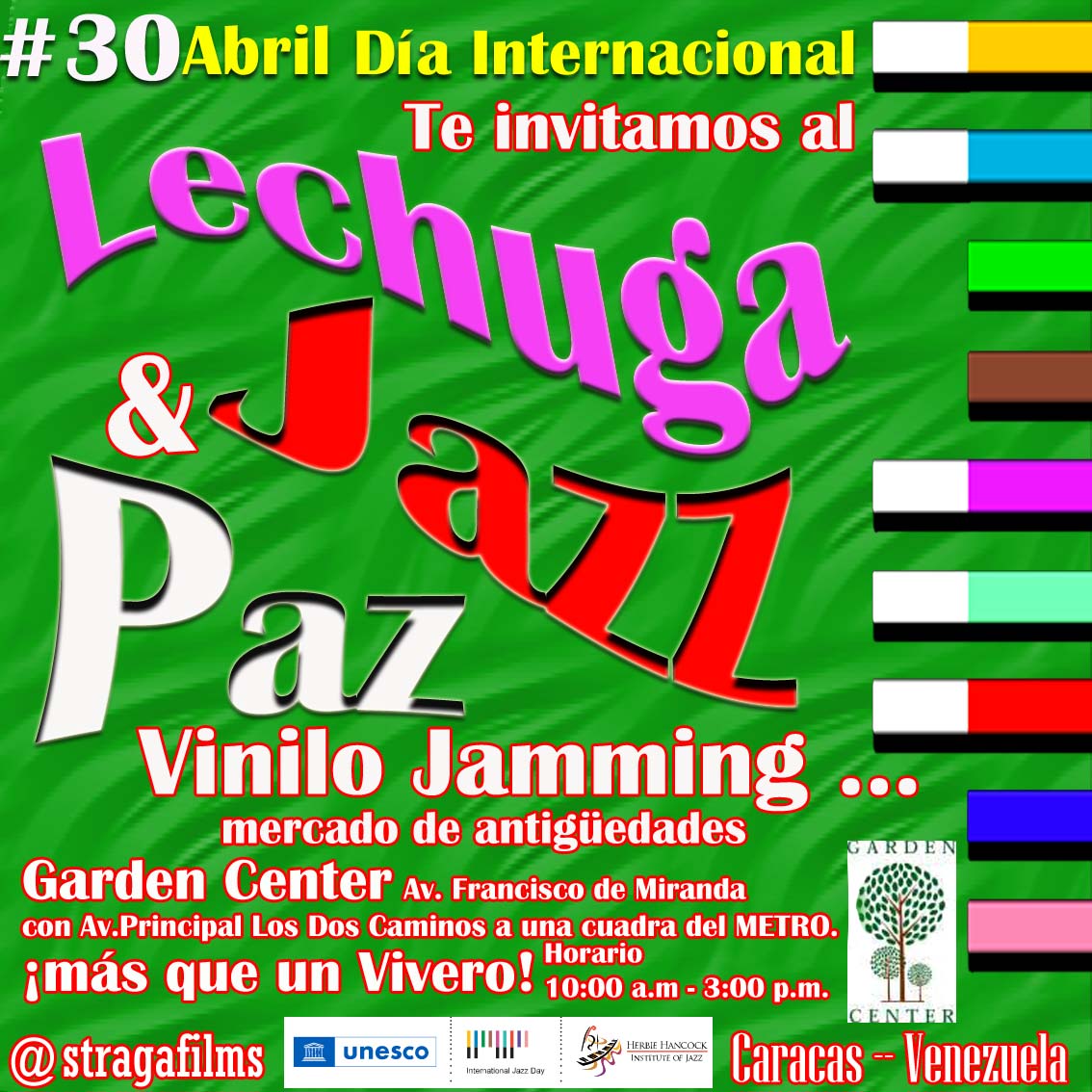 EN EL GARDEN CENTER NOS REUNIMOS TODOS LOS FINES DE SEMANA, CELEBRAMOS UN ENCUENTRO DE COLECCIONISTAS, CON AMBIENTE MUSICAL DE DISCOS DE VINILO y CDs, DVDS, Libros y Revistas DE JAZZ Y SALSA en muchos objetos de colección.
ESTE SÁBADO 30 DE ABRIL CELEBRANDO DÍA INTERNACIONAL DE JAZZ , TENEMOS MÚSICOS INVITADOS Y COLECCIONISTAS DE LPs y 45rpm - para escucharlos en VINILO JAMMING en el Lechuga Jazz & Paz.
COMPRA Y VENTA- DISCOS DE VINILO Y CDS.
###
AT THE GARDEN CENTER WE MEET EVERY WEEKEND, WE CELEBRATE A MEETING OF COLLECTORS, WITH A MUSICAL ATMOSPHERE OF VINYL RECORDS and JAZZ AND SALSA CDs, DVDS, Books and Magazines in many collectibles.
THIS SATURDAY, APRIL 30, CELEBRATING INTERNATIONAL JAZZ DAY, WE HAVE GUEST MUSICIANS AND LP and 45rpm COLLECTORS - to listen to them on VINYL JAMMING at Lechuga Jazz & Peace.
BUY AND SELL- VINYL RECORDS AND CDS.
Organizer(s)
VENEZUELAANTIGUA
Contact Person: RAFAEL STRAGA ZUE
Tel: + 58416815920
Email: [email protected]
VIVERO GARDEN CENTER CARACAS.
ESPACIO CENTRAL ABIERTO
Av. Francisco de Miranda con Av.Principal Los Dos Caminos a una cuadra del METRO.
ESQUINA ESTE DEL PARQUE DIAGONAL CON EL CC MILENIUM.
LOS DOS CAMINOS, DISTRITO SUCRE, ESTADO MIRANDA CARACAS
More Celebrations in Venezuela for International Jazz Day 2022