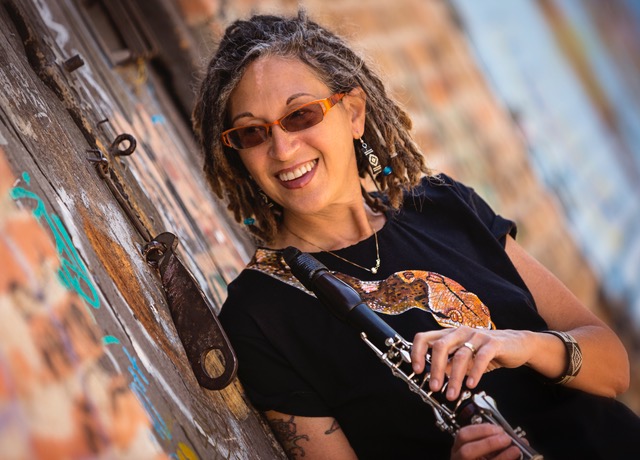 La destacada saxofonista neoyorquina Susan Terry nos ofrecerá un concierto donde estará acompañada de un contingente de destacados músicos de Jazz local con una amplia trayectoria nacional como internacional: Fidel Vargas (batería), Giovanni Bermudez (contrabajo), Raimon Rovira (piano) y Juanpa Naula (guitarra).
El programa incluye varios de los más reconocidos standards (obras más emblemáticas del repertorio de jazz); además, se rendirá un homenaje a una leyenda del género, que lastimosamente falleció recientemente: el enorme "Wayne Shorter" (1933 - 2023), interpretando algunas de sus composiciones más relevantes. ¡Les esperamos!!
###
The outstanding New York saxophonist Susan Terry will offer us a concert where she will be accompanied by a contingent of prominent local jazz musicians with extensive national and international careers: Fidel Vargas (drums), Giovanni Bermudez (double bass), Raimon Rovira (piano) and Juanpa Naula (guitar).
The program includes several of the most recognized standards (the most emblematic works of the jazz repertoire); In addition, a tribute will be paid to a legend of the genre, who unfortunately recently passed away: the enormous "Wayne Shorter" (1933-2023), interpreting some of his most relevant compositions. We wait for you!!
Organizer(s)
Asociación Humboldt/Goethe Zentrum Quito
Contact Person: Departamento Cultura
Tel: + 593 02 2236910
Email: [email protected]
Asociacion Humboldt/ Goethe Zentrum Quito
Vancouver E5-54
Polonia
Quito, Pichincha 170515
More Celebrations in Ecuador for International Jazz Day 2023