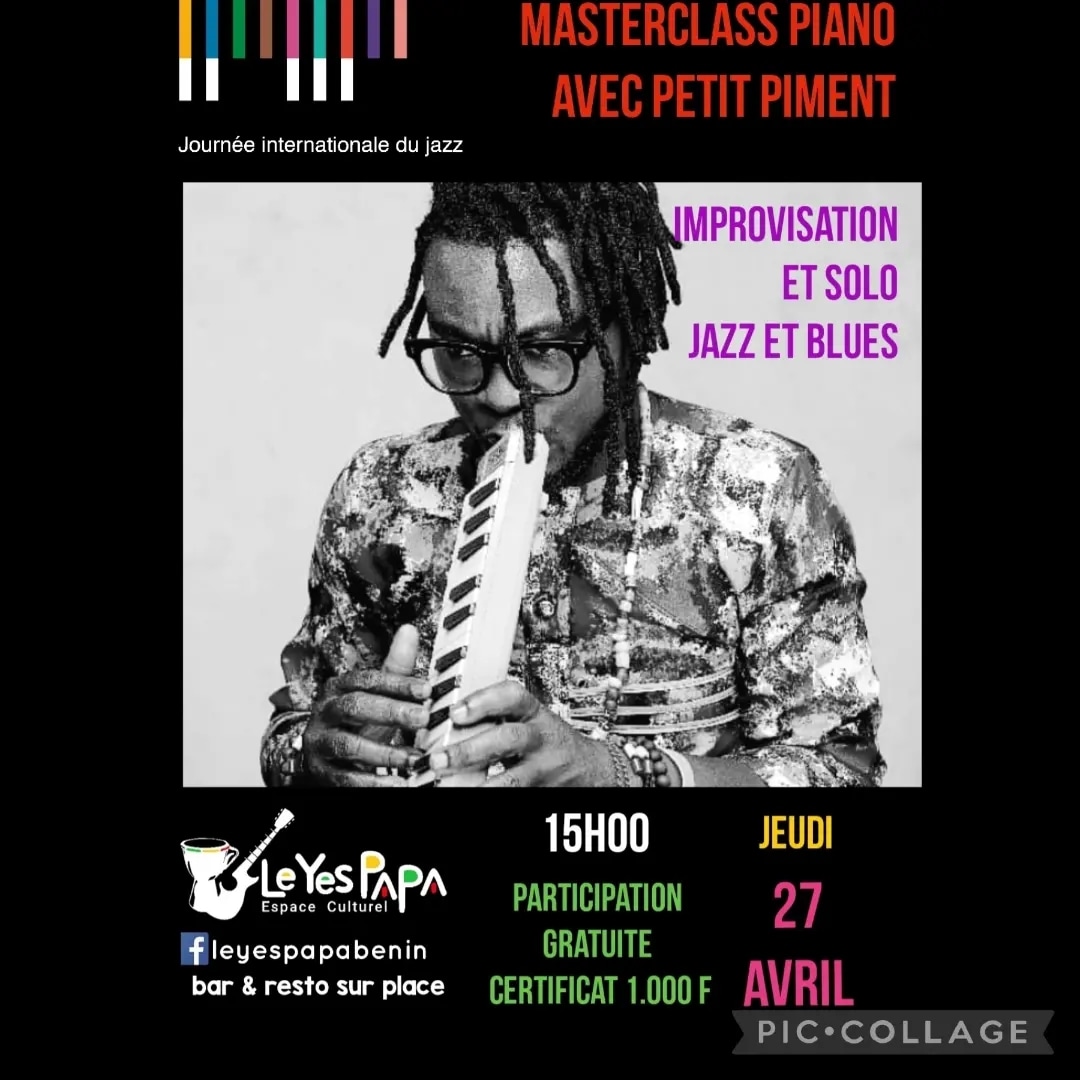 [JOURNÉE INTERNATIONALE DU JAZZ]
[MASTERCLASS PIANO AVEC PETIT PIMENT]
Bienvenue à tous les amoureux du piano Jazz et Blues! Nous sommes ravis de vous annoncer notre prochaine masterclass de piano le jeudi 27 Avril 2023 animée par le pianiste Petit Piment. Cette masterclass vous offrira l'occasion de plonger dans l'univers du Jazz et Blues et d'apprendre les harmonisations pour l'improvisation et solo. Vous pouvez ainsi améliorer votre jeu et enrichir votre répertoire avec de nouvelles compétences. La séance est ouverte à tous les niveaux, du débutant au confirmé.
🎹 Date : Jeudi 27 Avril
🎹 Heure: 15h
🎹 Pass: participation gratuite, certificat 1.000 F
#jazzday #masterclass #petitpiment #LeYesPapaBenin #jazzdaycotonou
###
[INTERNATIONAL JAZZ DAY]
[PIANO MASTERCLASS WITH SMALL CHILI]
Welcome to all Jazz and Blues piano lovers! We are delighted to announce our next piano masterclass on Thursday April 27, 2023 hosted by pianist Petit Piment. This masterclass will give you the opportunity to dive into the world of Jazz and Blues and learn harmonizations for improvisation and solo. You can improve your game and enrich your repertoire with new skills. The session is open to all levels, from beginner to advanced.
🎹 Date: Thursday, April 27
🎹 Time: 3 p.m.
🎹 Pass: free participation, 1,000 F certificate
#jazzday #masterclass #petitpiment #LeYesPapaBenin #jazzdaycotonou
Le Yes Papa
Stage and cultural association
Etoile rouge
C/1059
Cotonou, Littoral 1059
More Celebrations in Benin for International Jazz Day 2023