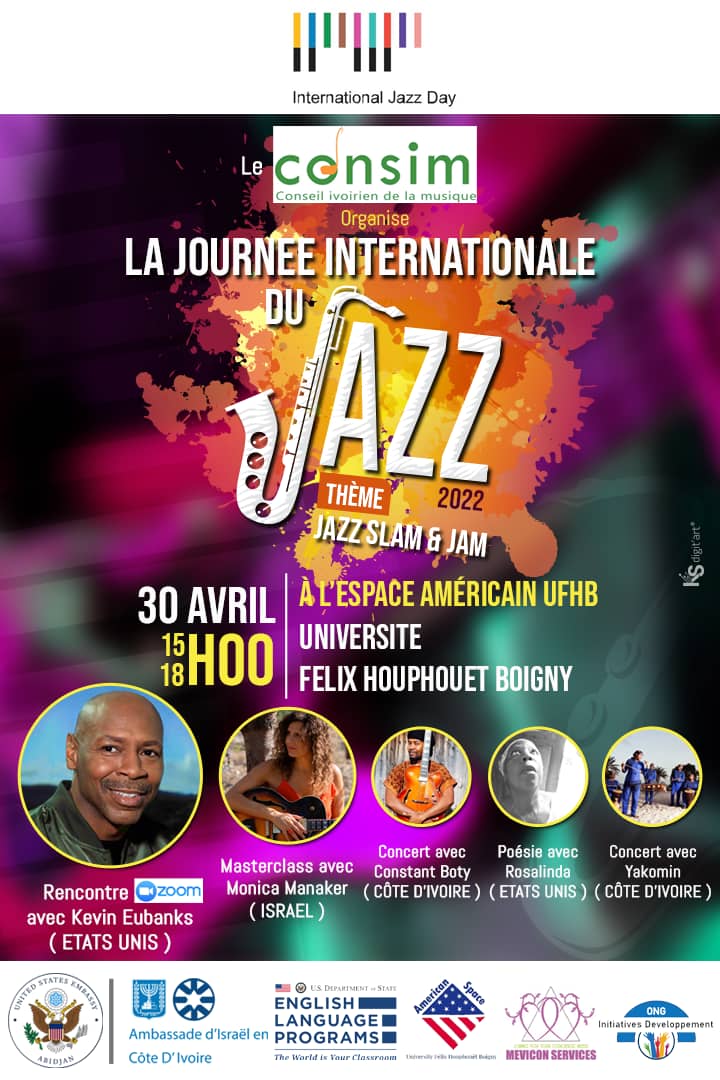 JAZZ, SLAM & JAM
04/30
15:00
Bringing together rhythm, groove, and the story thereof, this event invites music and language students to discover the interplay of music, poetry, and the evolution of jazz from the streets of New Orleans (USA) to the streets of Abidjan (CI).
Performances
• Guitarist Constant Boty (CI) and guitarist/singer Monika Manaker (IL) with the Guru Guru Band
• YAKOMIN (CI) with jazz/world music fusion on African instruments
• Jazz poet ROSALINDA (USA) and students of English and US culture with rhythmic words in a Jazz Poetry Slam.
Lectures
• Guitarist/TV personality Kevin Eubanks (USA): "Inspiring, uplifting, and educating about the world of jazz"
• Monika Manaker: "Effective Songwriting"
• Dr. Kossonou Henry: "Ivoirian Jazz"
Organizer(s)
CONSEIL IVOIRIEN DE LA MUSIQUE
Contact Person: Constant Boty
Tel: + 225 07 68 35 41 78
Email: [email protected]
American Space Ufhb
10 BP V34 ABIDJAN 01
UNIVERSITY FELIX HOUPHOUET BOIGNY
Cocody, Abidjan, Region des Lagunes Abidjan
More Celebrations in Cote d'Ivoire for International Jazz Day 2022