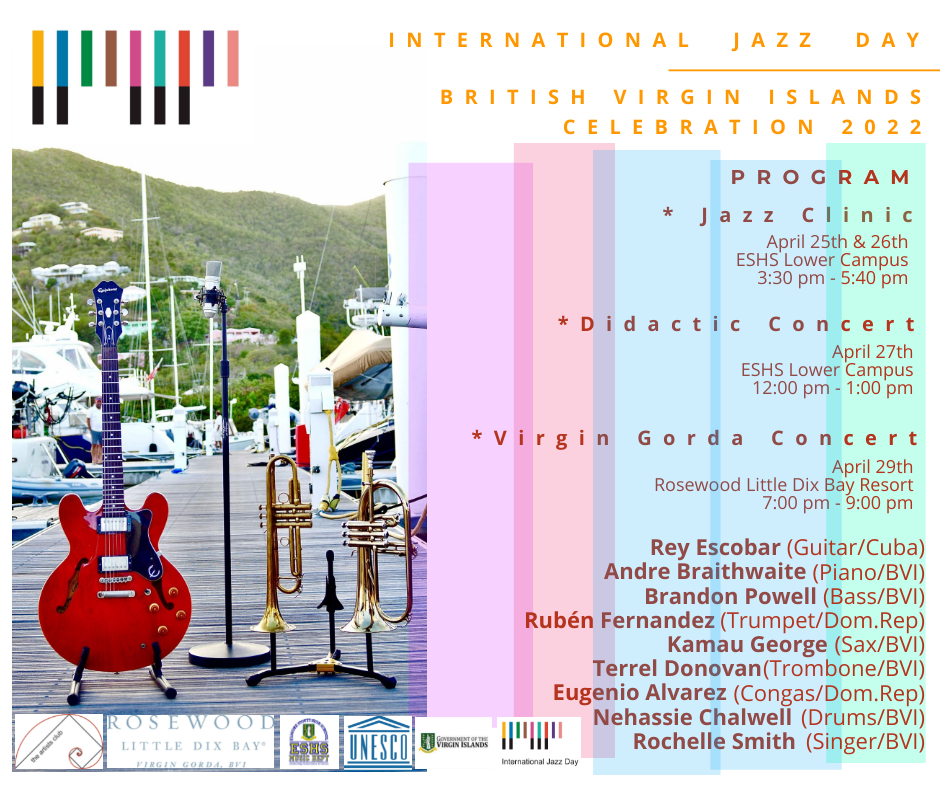 In British Virgin Islands, The Artists Club Caribe, and the ESHS Music Department have joined forces to celebrate this date for the first time ever in the territory.
The program:
- Jazz Clinic and Didactic Concert at ESHS Campus, Tortola (April 25th, 26th & 27th. 3:30pm).
- Virgin Gorda Concert at Rosewood Little Dix Bay Resort, Virgin Gorda (April 29th, 19:00 pm).
The event will have the participaron of:
Rey Escobar (Guitar-Cuba) / Andre Braithwaite (Piano-BVI) / Brandon Powell (Bass-BVI) / Ruben Fernandez (Trumpet-Dom.Rep) / Kamau George (Sax-BVI) / Terrel Donovan (Trombone-BVI) / Eugenio Alvarez (Congas-Dom.Rep) / Nehassie Chalwell (Drums) / Rochelle Smith (Singer-BVI) / Daviana Basilio (Producer).
Organizer(s)
The Artists Club Caribe
Contact Person: Rey Escobar
Tel: + 12845434689
Email: [email protected]
ESHS Lower Campus
Music Band Room
Lower Estate Road
Road Town, Tortola VG1110