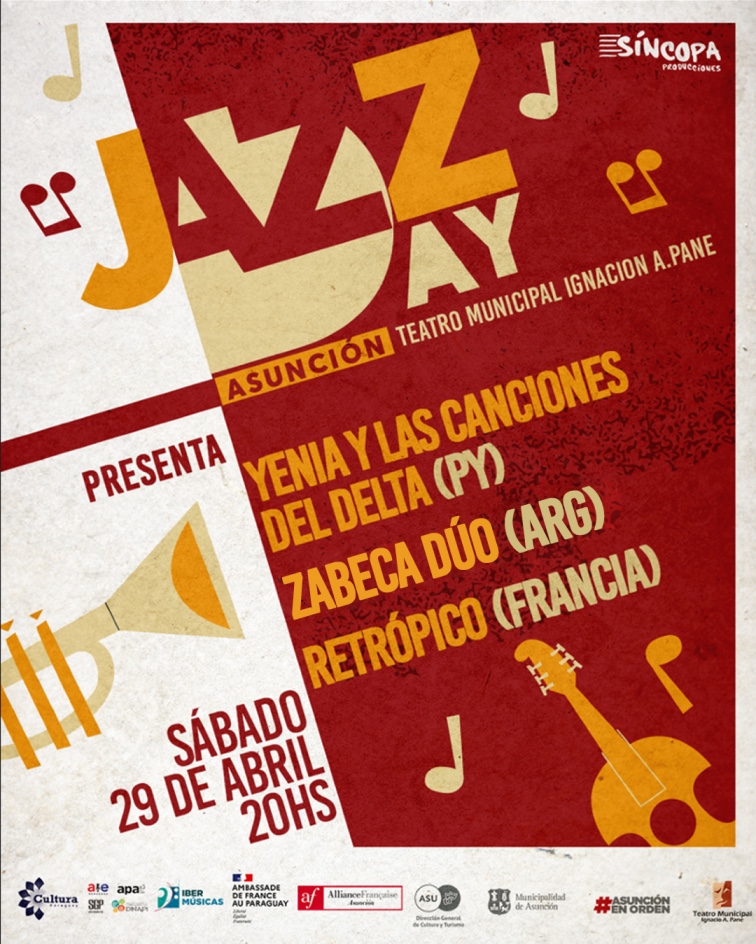 El 29 de abril se desarrollara la celebración por el día internacional del jazz Asunción,
De esta manera el Festival , impulsado por Síncopa Producciones vuelve en Asunción, con la presencia internacional destacada del duo argentino Zabeca, el grupo Frances Retrópico y el proyecto de la cantautora nacional Yenia, en una noche única en el Teatro Municipal de Asunción desde las 20hs.
Así mismo se desarrollara una semana de masterlcass de jazz con artistas de Paraguay e internacionales previo al día del festival.
El Jazzday Asunción es posible gracias al apoyo de Ibermusicas, Dirección de Cultura de Asunción, Secretaria Nacional de Cultura, Alianza Francesa y la Embajada de Francia en Py.
###
On April 29, the celebration for the international day of jazz Asunción will take place,
In this way, the Festival, promoted by Síncopa Producciones, returns to Asunción, with the outstanding international presence of the Argentine duo Zabeca, the group Frances Retrópico and the project of the national singer-songwriter Yenia, in a unique night at the Municipal Theater of Asunción from 8:00 p.m. .
Likewise, a week of jazz masterclasses will be held with Paraguayan and international artists prior to the day of the festival.
Jazzday Asunción is possible thanks to the support of Ibermusicas, the Asunción Directorate of Culture, the National Secretary of Culture, the French Alliance and the French Embassy in Py.
Organizer(s)
Síncopa Producciones
Contact Person: Victor Sebastian Morel
Tel: + 595981980253
Email: [email protected]
More Celebrations in Paraguay for International Jazz Day 2023