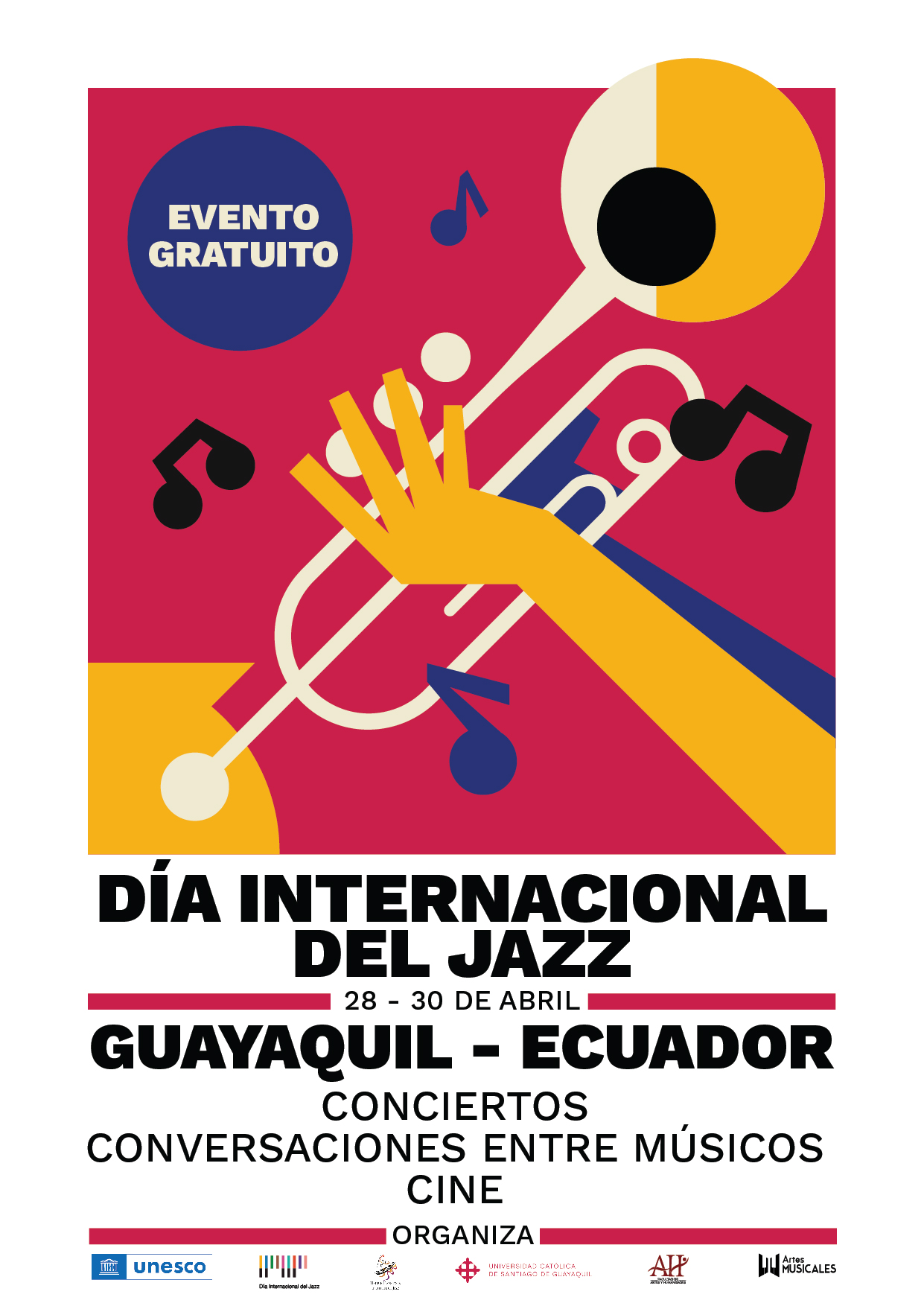 La Universidad Católica De Santiago de Guayaquil se complace en presentar la cuarta edición del día Internacional del Jazz. Tres días de eventos relacionados a este género musical que ha escrito la historia de la música moderna.
28 de Abril: Proyección de documental 93'
29 de Abril: Conversaciones Entre Músicos
30 de Abril: Concierto Día Internacional del Jazz Guayaquil en Plaza Guayarte
###
The Catholic University of Santiago de Guayaquil is pleased to present the fourth edition of the International Jazz Day. Three days of events related to this musical genre that has written the history of modern music.
April 28: Screening of documentary 93'
April 29: Conversations Between Musicians
April 30: Guayaquil International Jazz Day Concert in Plaza Guayarte
Organizer(s)
UNIVERSIDAD CATÒLICA DE SANTIAGO DE GUAYAQUIL
Contact Person: JENNY VILLAFUERTE
Tel: + 593999104890
Email: [email protected]
UNIVERSIDAD CATÓLICA DE SANTIAGO DE GUAYAQUIL
AUDITORIO LEONIDAS ORTEGA - Edif. Principal UCSG
Avenida Carlos Julio Arosemena
UCSG Campus - Ave. Carlos Julio Arosemena km 1.5
Guayaquil, Guayas 090613
Plaza Guayarte
Plazoleta Guayarte
Avenida Presidente Carlos Julio Arosemena Tola
Guayaquil, Guayas
More Celebrations in Ecuador for International Jazz Day 2022