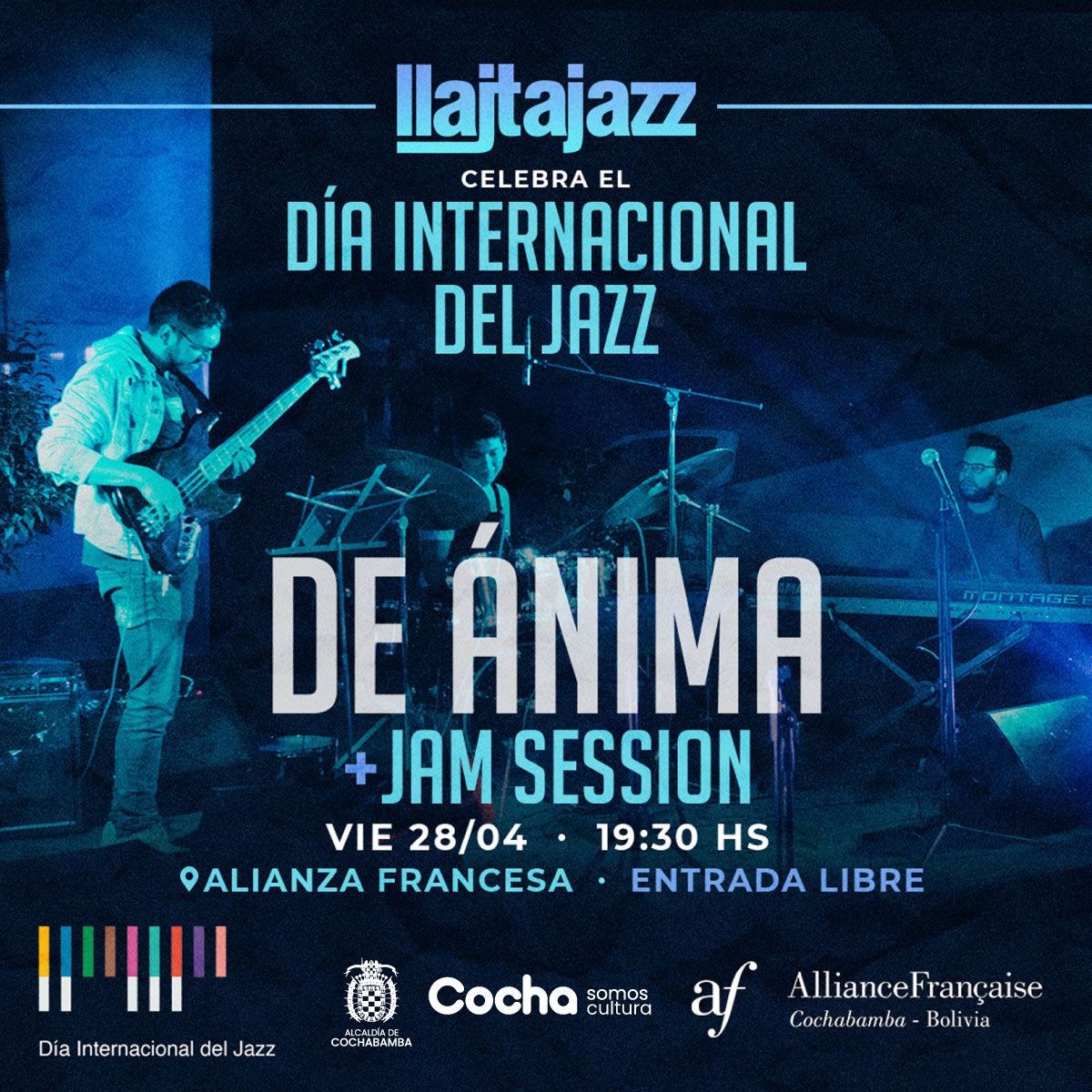 Celebramos el Día Internacional del Jazz 2023 !!
La organización del Festival Llajtajazz se suma a esta celebración mundial con un evento especial que tendrá como primera parte un concierto en vivo de "DE ANIMA", uno de los grupos de jazz emergentes más importantes de la escena local. La segunda parte se extenderá con una JAM SESSION abierta a todos los músicos, cantantes y solistas que deseen subir al escenario para compartir y explorar en la libre interpretación y la improvisación, al mejor estilo del jazz.
📆 Viernes 28 de abril
⏳ 19h30 a 21h30
📍 Auditorio PIAF de la Alianza Francesa
🔖 INGRESO LIBRE
🔷 Producción: Festival Llajtajazz
🔷 Co-producción: Alianza Francesa de Cochabamba
###
We celebrate International Jazz Day 2023!!
The organization of the Llajtajazz Festival joins this global celebration with a special event that will have as its first part a live concert by "DE ANIMA", one of the most important emerging jazz groups on the local scene. The second part will be extended with a JAM SESSION open to all musicians, singers and soloists who wish to take the stage to share and explore free interpretation and improvisation, in the best jazz style.
📆 Friday April 28
⏳ 7:30 p.m. to 9:30 p.m.
📍 PIAF Auditorium of the Alliance Française
🔖 FREE ENTRY
🔷 Production: Llajtajazz Festival
🔷 Co-production: French Alliance of Cochabamba
Organizer(s)
Festival Llajtajazz
Contact Person: Nayra Reque
Tel: + 591 76907072
Email: [email protected]
More Celebrations in Bolivia for International Jazz Day 2023