Meet Our Organizers
Nadia Mosanu, Belarus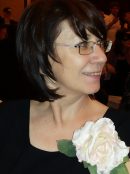 Why are you celebrating International Jazz Day? Why is it important?
The Embassy of Romania in Belarus and the Belarusian State Philharmonic Society Jazz have initiated a public diplomacy project, in conjunction with the celebration of International Jazz Day which offers musicians from two countries the opportunity to work and perform together.
A representative piece of the Romanian composer Florin Raducanu named Jazz Ecumenica Symphony Jazz Poem will be given its World Premiere by the author together with the State Academic Symphony Orchestra of Belarus. The symphony poem is full of vitality, in the tradition of classical-jazz fusion and is enriched by refreshing accents originating from Romanian folk shaped with the help of the Romanian pan flutist Dalila Cernatescu.
Through the International Jazz Day celebration we aim to give to Belarusian music lovers the "visiting card of Romania," thus confirming the diplomatic role of jazz which is transcending political and cultural differences.
What would you like to see happen through this day – short term and long term?
The Romanian-Belarusian jazz project will include, beside the performance of the Jazz Ecumenica Symphony Poem, a master-class led by Florin Raducanu under the general theme Symbiosis between jazz and classical music, which will take place on April 6th at the Belarusian State Music Academy.
The celebration will be covered by the Belarusian media: the B3 National Cultural Channel will record the concert and will interview the composer, the conductor and the pan flutist for a TV promo of the newscast Panorama at Channel 1.
What does jazz music mean to you? To your community?
We see jazz as the common language between two cultures: the Belarusian and the Romanian one.  This project hopes to strengthen dialogue and open the doors for future Romanian-Belarusian arts collaboration.
Nadia Mosanu is an organizer based in Minsk, Belarus.