Meet Our Organizers
Gavin Poonoosamy, Mauritius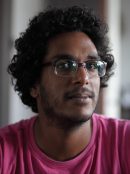 Why do you celebrate International Jazz Day?
The real answer, to be fair, is that I do not have a choice 🙂
I embrace Music as Jazz everyday and this official date gives yet another incentive to be wild, especially in Mauritius where we strive to build audiences around creative musicians.
MAMA JAZ is now a Jazz Month and started out of the desire to celebrate the 30th of April in 2016. Hence, always, due respect we shall pay to that which became the ground for our birth and so actively promotes peace building, dialogue and international cooperation; values we honestly stand for.
May Music be with all.