Meet Our Organizers
Feelyxngz Gospel Band, Cameroon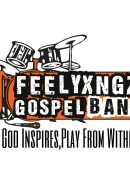 1. What does jazz music mean to you? To your community?
Jazz music has become a complete part of my band and has brought us from different regions of the country for this purpose.
In our community jazz isn't dominant. We want to stand distinct and unique giving a new taste of music to our community. It's interesting to notice that though many people don't do jazz here, they fall in love with it once they hear it.
2. Why are you celebrating International Jazz Day? Why is it important?
This is a great opportunity to create more awareness of jazz music and its flexibility. Jazz music cuts through every age and class of people, so we want to reach out to the community with a message of peace and hope. It's also part of our goal as a band to take part in humanitarian projects so this sends out a similar message. I also hope we can get the world to hear our own jazz compositions.
3. What would you like to see happen through this day – short term and long term?
Our community has almost every tribe in Cameroon represented, and what a great opportunity for intercultural dialogue.
We hope to sell ourselves and the band through this event considering we are a startup band.
We hope to make this event bigger than the previous year.
We are jazz, we are peace, we are freedom, we are hope and we are Cameroon.