Meet Our Organizers
Enrica Cazzolato, Italy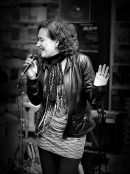 1. What does jazz music mean to you? To your community?

For our community "jazz" is an international phenomenon, a product of cultural collaboration and an universal language of tolerance and freedom.
2. Why are you celebrating International Jazz Day? Why is it important?

We are celebrating the International Jazz Day in order to take the opportunity of embed the name of Treviso with an international circuit. Moreover it is the way of connecting local artists with the rest of the world, joining a common language which will help our community in gaining more visibility.
3. What would you like to see happen through this day – short term and
long term?
We already connected to more than 60 local artists, who will join our events, collaborating and creating a complete different atmosphere in the whole city of Treviso. This will lead to a permanent group of human beings, who will start growing every year and in long term, we would like to actively contribute in disseminating the universal language of tolerance and freedom in our city.